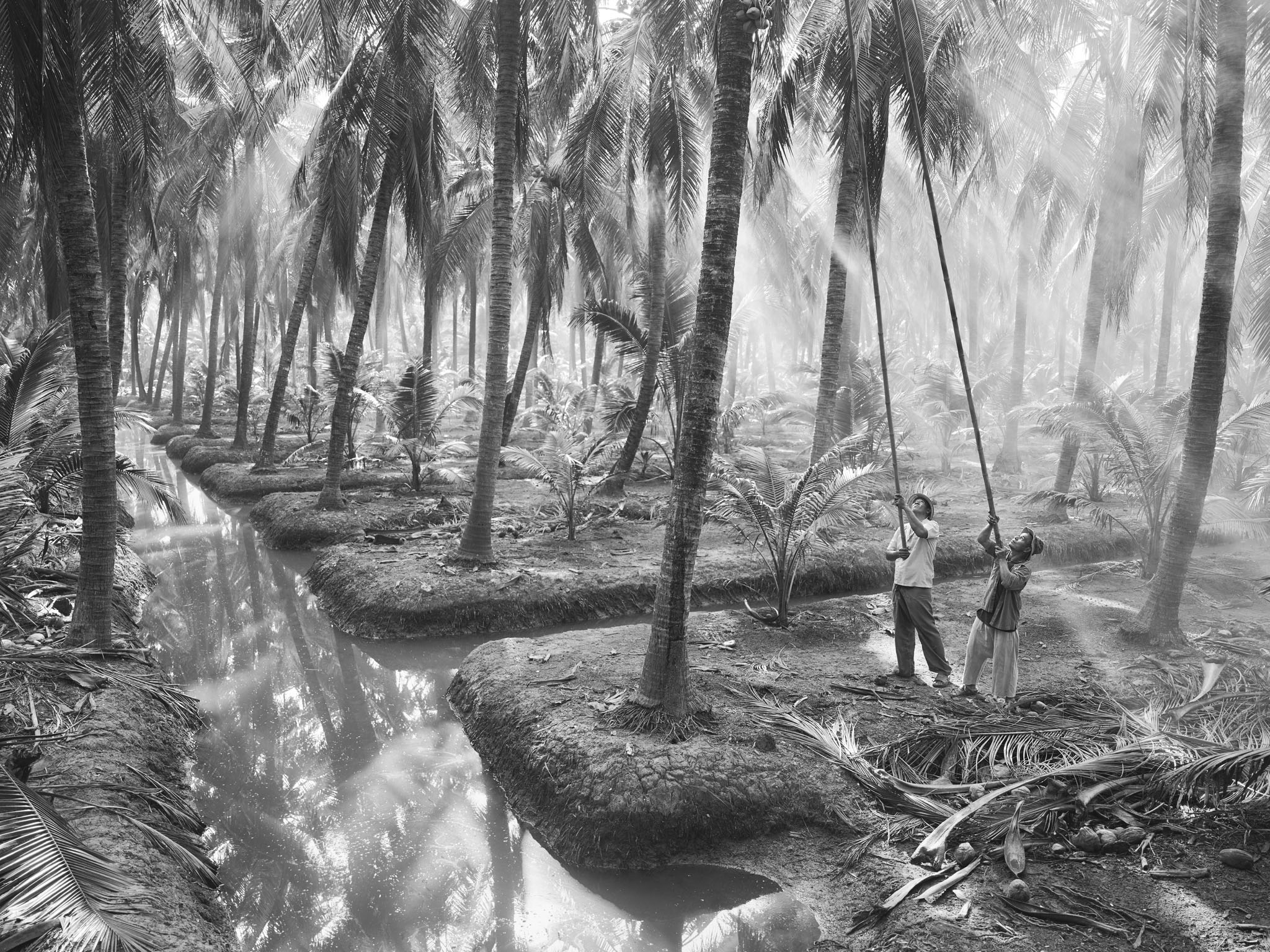 An intimate portrait of Thailand's coconut farmers

I recently travelled to Thailand's Ratchaburi province to photograph the farmers of Harmless Harvest— a popular fair trade, organic coconut water. Rather than the typical advertising campaigns of palm trees and coconuts on a beach, we set out to create a window into the life of the real agriculturists behind the label: the harvesters who work on family-run plantations. These portraits would be used all over Los Angeles, New York, and beyond as print advertisements and billboards.

The people we chose to celebrate in the images are hardworking and proud stewards of nature. Within the vast irrigation canals of the coconut fields is an ecosystem of mixed agriculture: rare herbs on top to prevent soil erosion, medicinal grasses grown on the sides, and schools of fish within the water itself. Instead of using pesticides, a variety of beneficial insects are released into the fields to battle pests.
A short video of me running with my camera to catch up with the harvesters. They use long wooden spears to separate clusters of coconuts from the palm trees. One harvester cuts the branch while the other impales the stem, then directs them to fall safely into a irrigation canal for collection.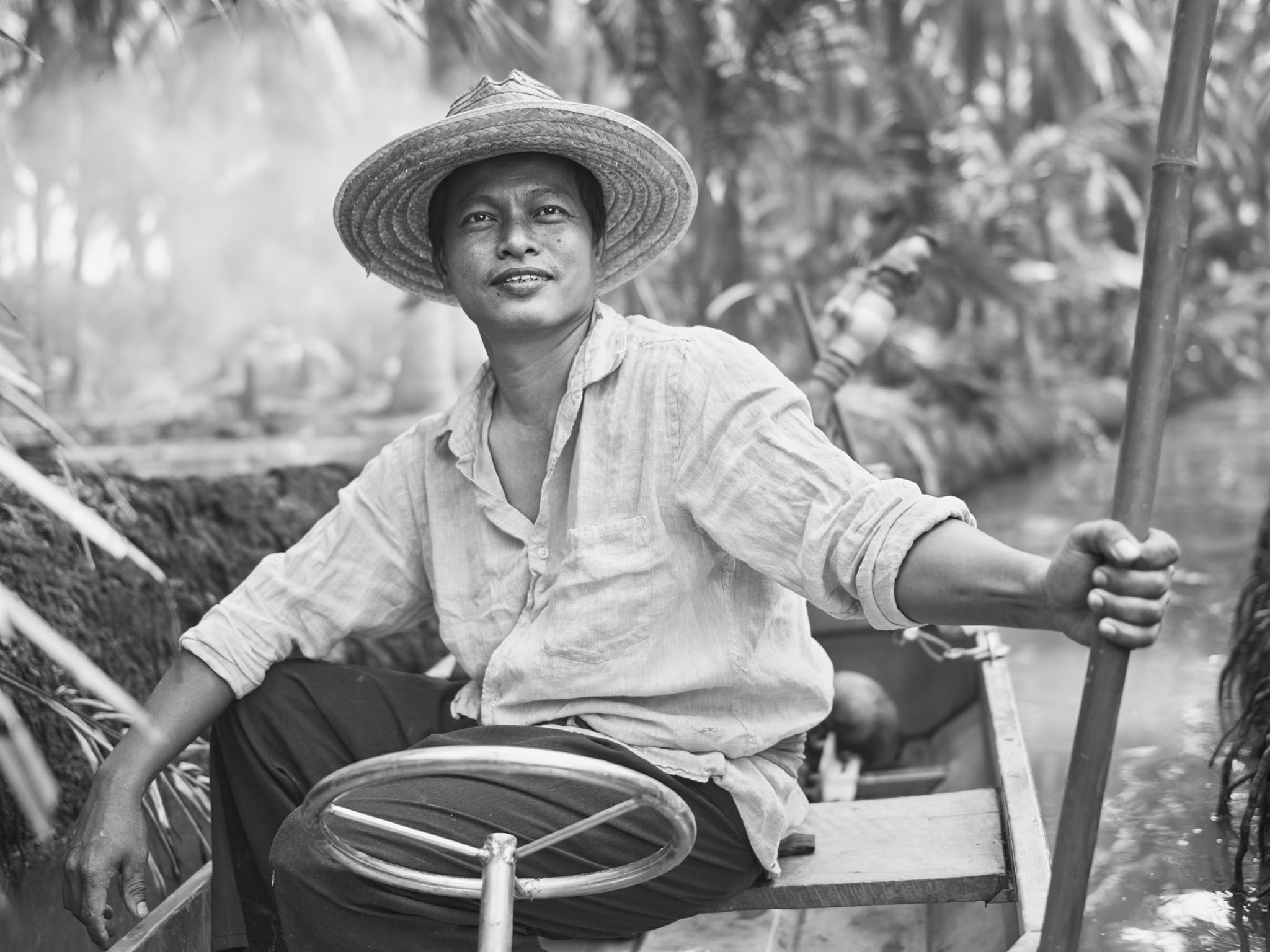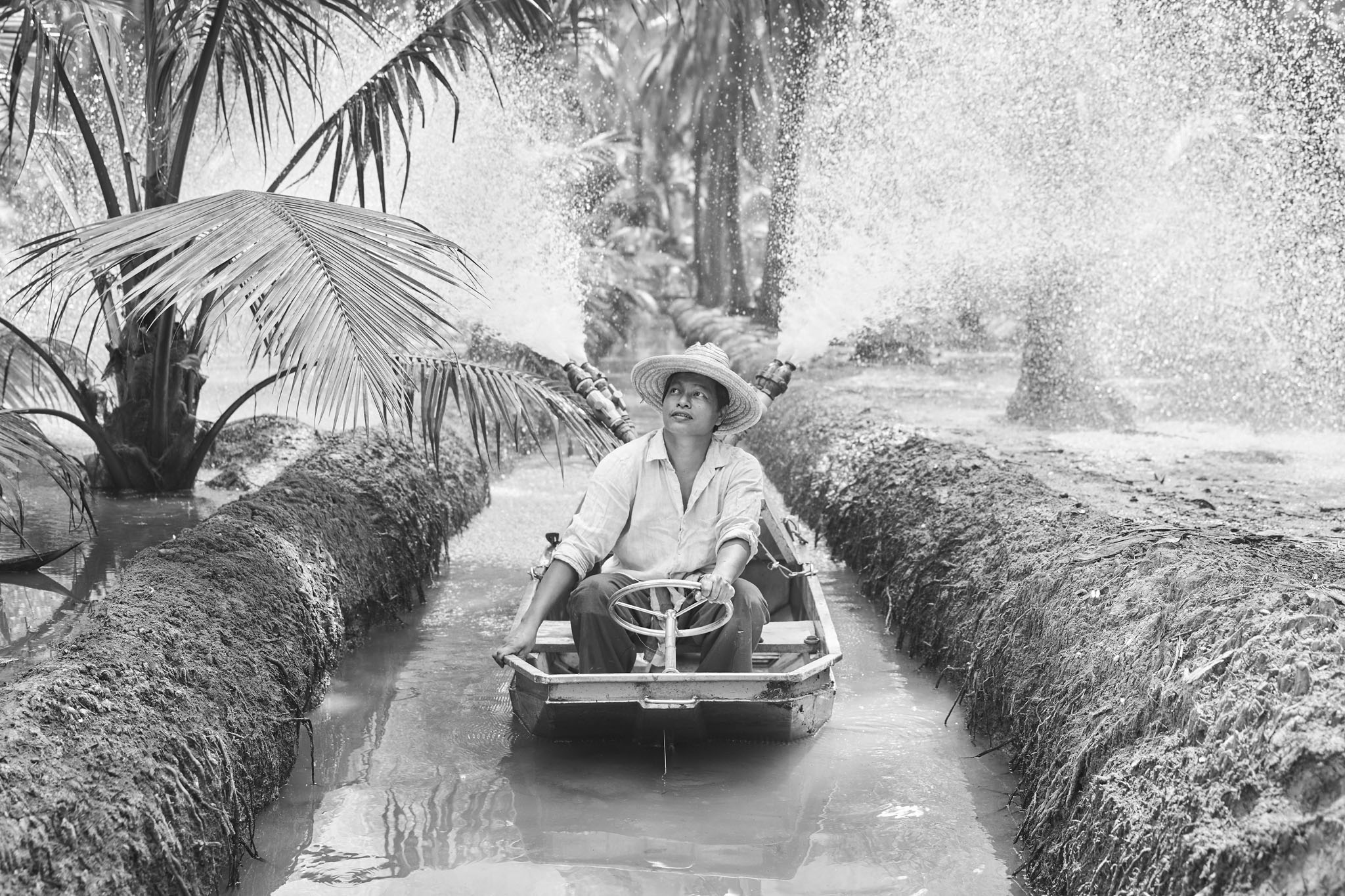 A small metal boat equipped with a pressurized pump is used to water coconut trees grown beside the irrigation canals.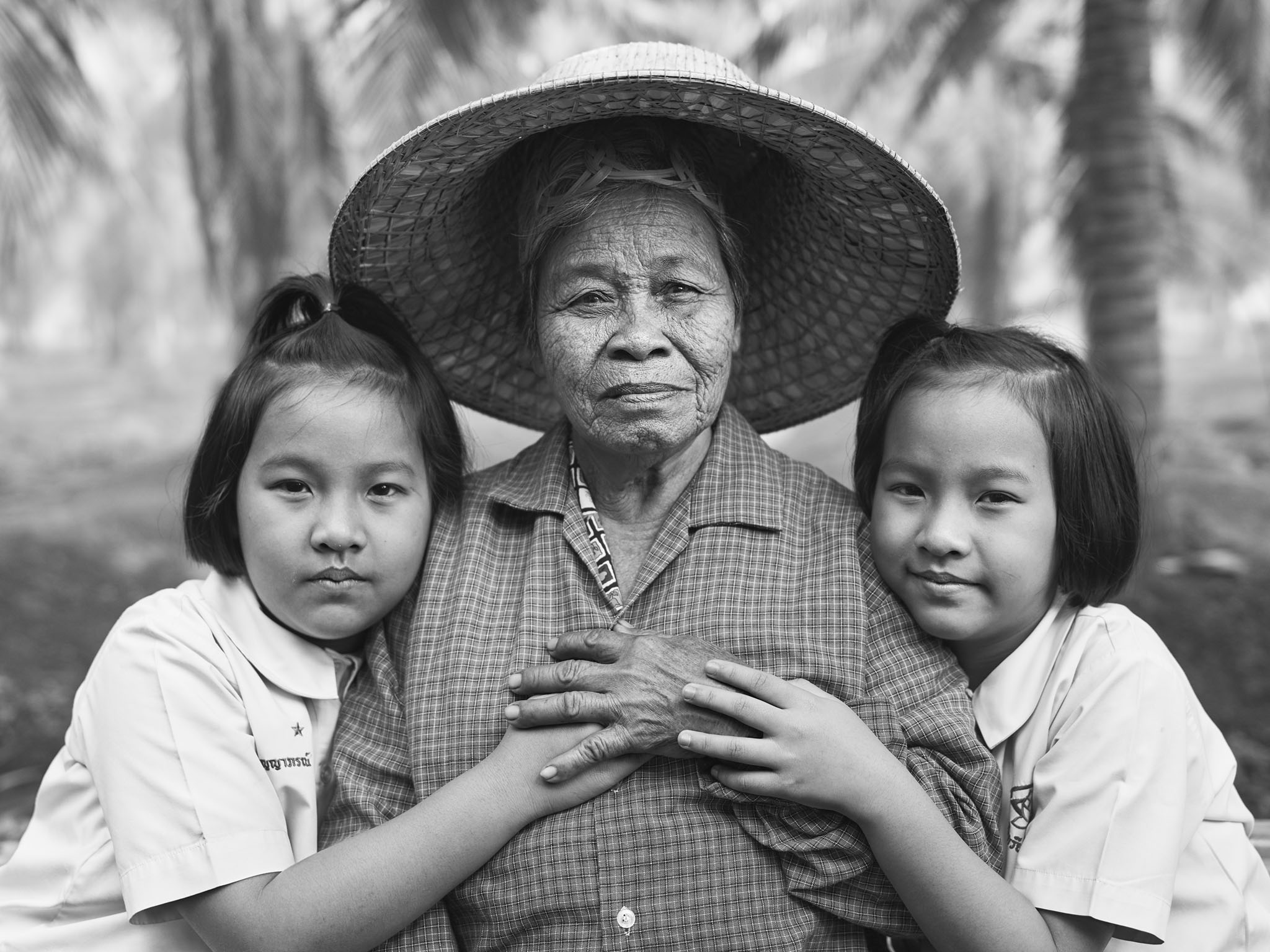 A grandmother and her grandchildren on their family's coconut planation.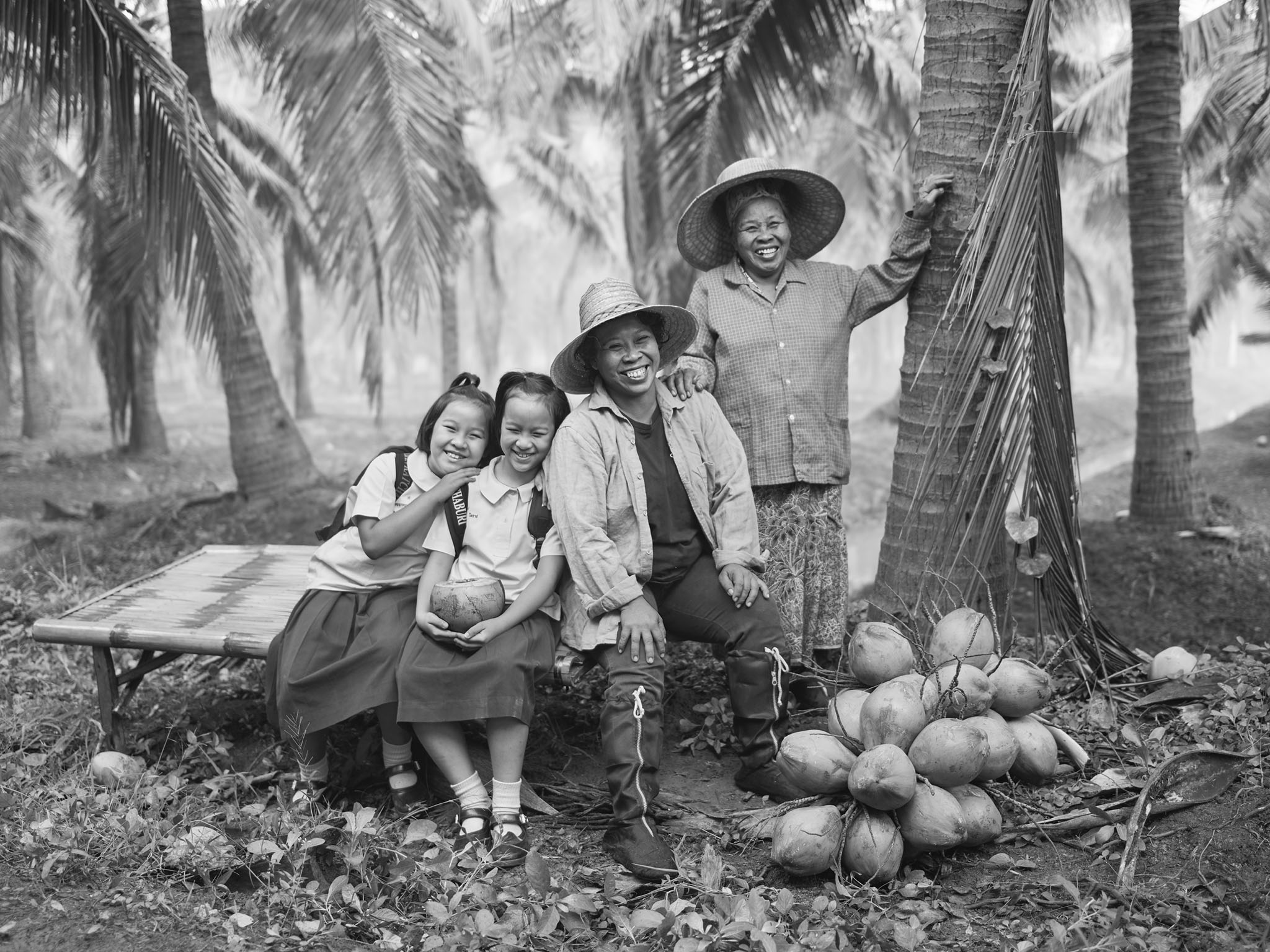 Three generations of a family-owned coconut farm.
The Locals

These farmers had their plots of land passed down from generations. In periods of economic growth in the area, some families grew rich and industrialized their fields, producing an abundance of crops, but relying on non-organic practices. Recently, families who could not afford upgrading to the expensive machinery and chemicals of their neighbors found their luck reversed: companies like Harmless Harvest preferred their old-school methods and the flavor profile of this hand-crafted coconut water. Their humble fields were suddenly connected to a major gourmet supply chain.

In Thailand, foreign companies like Harmless Harvest are forced to dance around the countries strict localized regulations, empowering Thai business owners and workers. Due to fair trade policies, everyone in the supply chain is paid decent and fair wages, and do not invoke the image of poor field workers so commonly depicted by foreign photographers working in Asia.

Now, if you spend this kind of cash on a bottle of coconut water, all this organic hippy fluff better be true. $5 for a 16oz bottle of coconut water?? But from what I saw during this shoot, all this stuff is very real. The Fair for Life certification has strict standards and conducts yearly audits. I'm not being paid to write this blog post, but as I read this, it seems I have now become quite the shill for Harmless Harvest… but truly, this project was visually a photographer's dream and I was honored to shoot it.

Black and White

Considering this was a fresh, new campaign telling the personal stories of the coconut farmers, we had a unique opportunity to establish a key look and feel in classic black and white. The advertising agency who hired me, DCX Growth Accelerator, was on the exact same page: we envisioned classic tones, simplicity in light and genuine expressions. The goal of the black and white treatment was not to appear "vintage", but rather to emanate a classic, timeless look which reflects the natural ingredients in the product, and the honest and traditional agricultural techniques used by farmers.


Using the Leica SL and 50mm 1.4 lens to capture a portrait, and my Phase One with waist-level finder for another setup.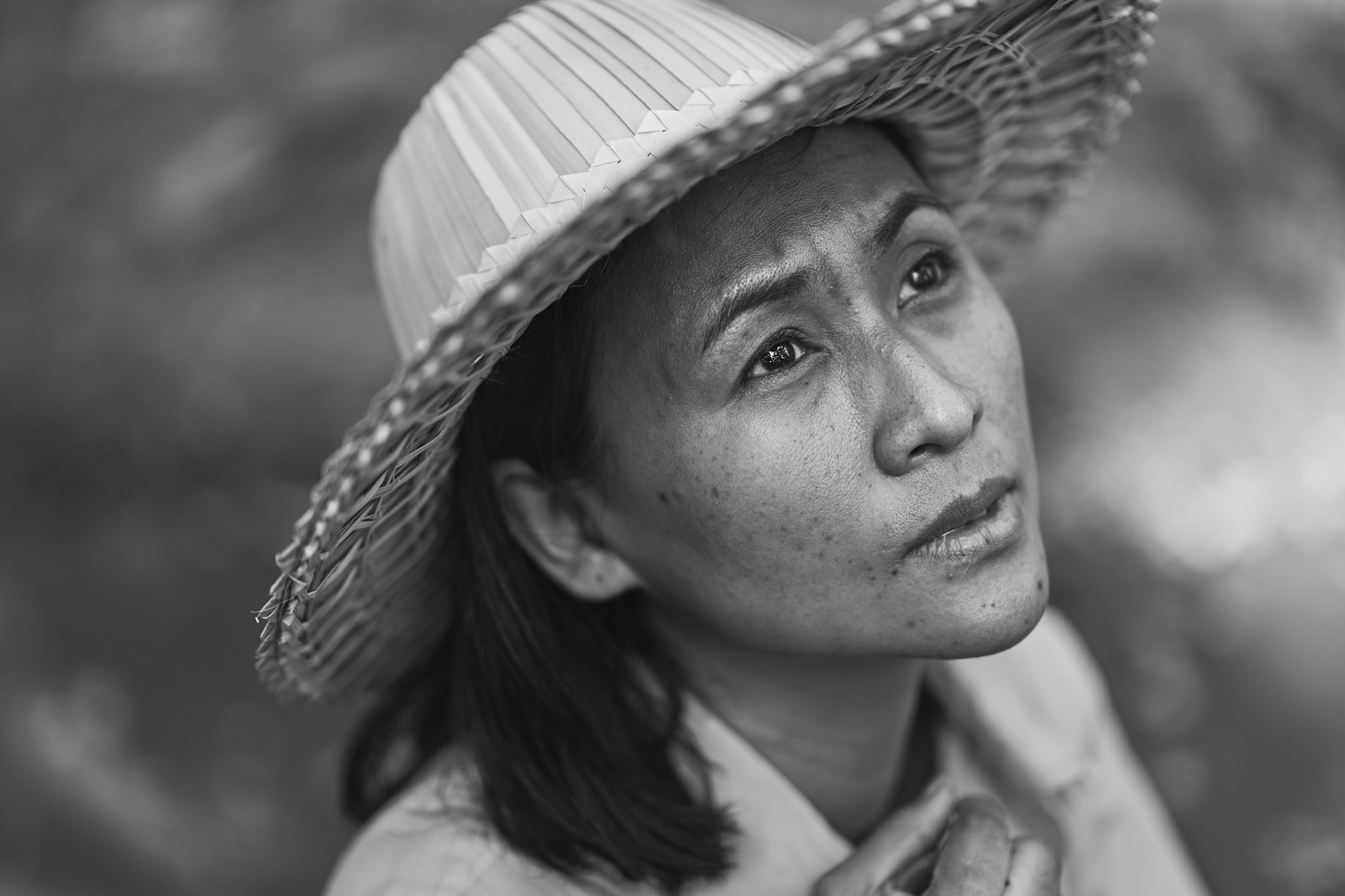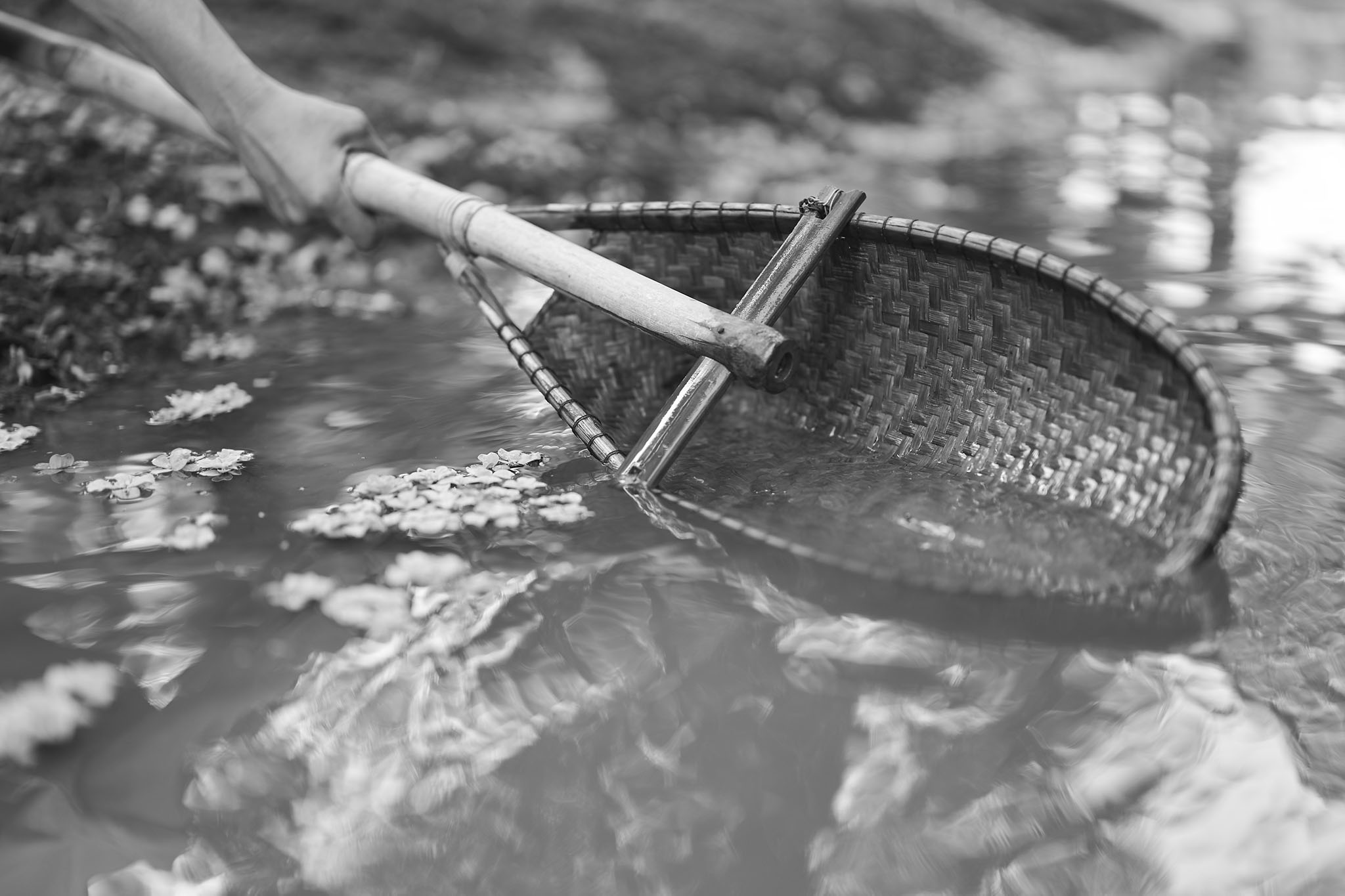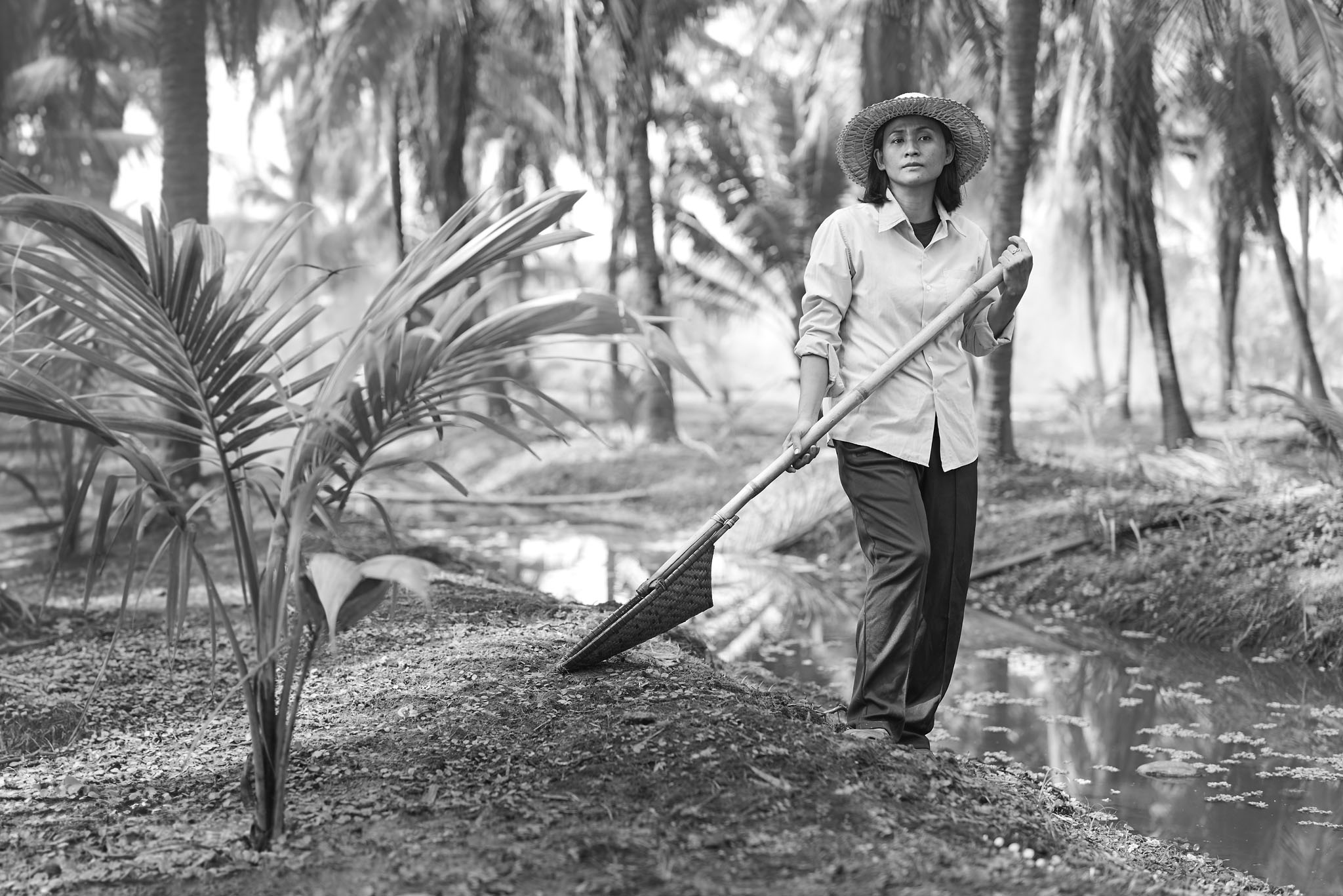 Pre-Production and the Shoot

The formula for getting these shots and collaborating with the farmers wasn't anything secret- it just required a bit of planning. First and foremost, we reached out to the farmers through our local contacts to explain the project in detail and get permission, especially considering the subject has to be aware their picture is being used to advertise a product. Then, before our 4 day shoot began, I personally scouted the fields and met all of our potential subjects. I found the Thai farmers delightfully open minded to photography. They were quite proud to be featured on billboards. They understood how the images would be used, and how this campaign would directly increase the demand for their crops.

4 back to back days- from sunrise to sunset- of shooting followed. We photographed the families and their employees as they harvested, but also tried to capture other details of their lives. We wanted to photograph the process Harmless approach from start to finish – from sourcing young organic coconuts, to giving back to the local Thai communities, to its ecosystem-based business model, and more. What began as an assignment to capture 8 images for an advertising campaign turned into a marathon of image making. I fell in love with the place, the people, and I shot enough to make an entire series.

When I spoke to my subjects, the translations were done by my incredible lighting assistant Jirathit, or "Nut" as he calls himself. Beyond being a technician, Nut would stand beside me as a I shot, and translate my directions during portrait sessions, or help explain what my subject was saying to me. We also had Sarinnaree Khamaiumcharean and her talented team helping with the production.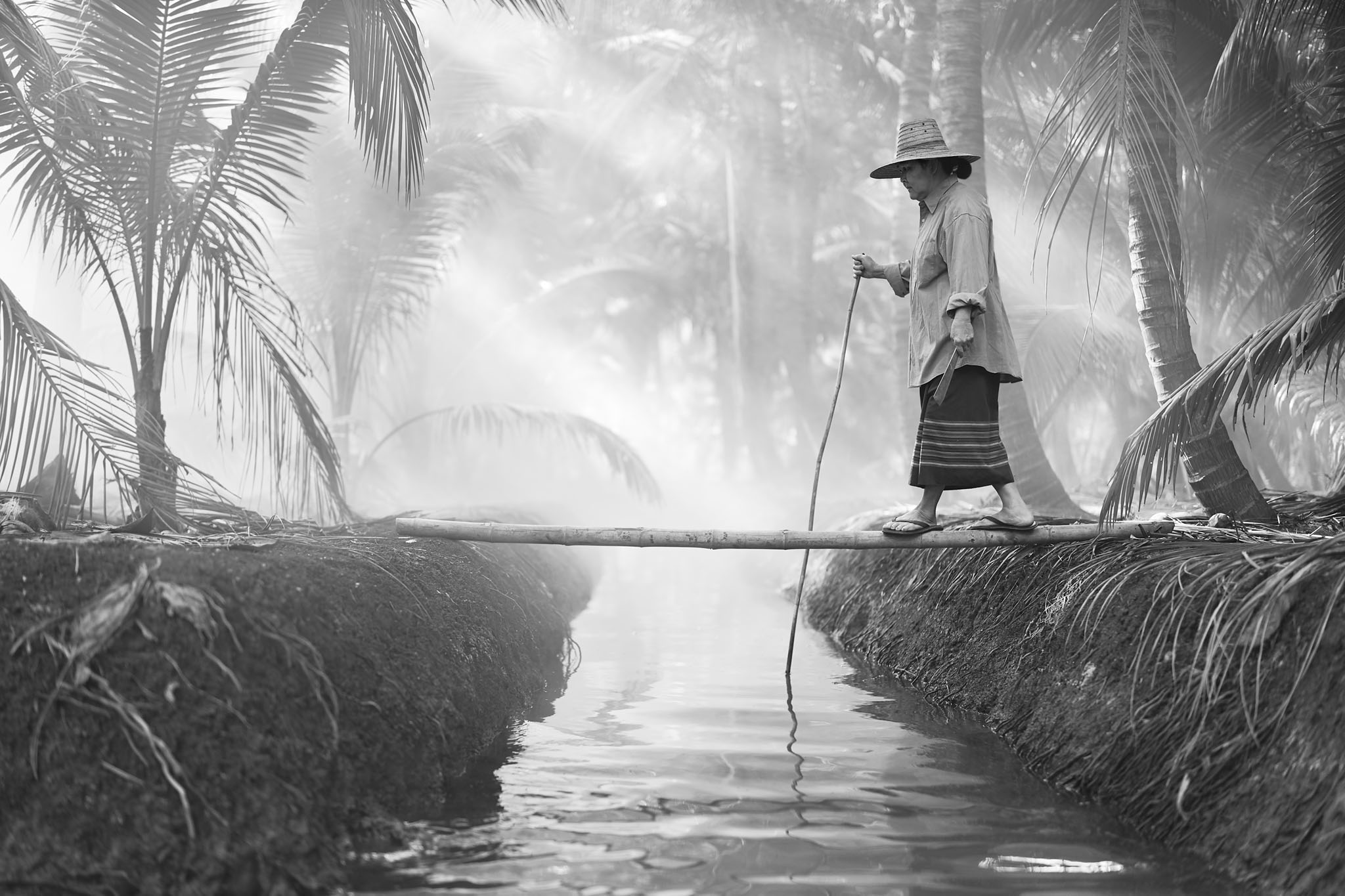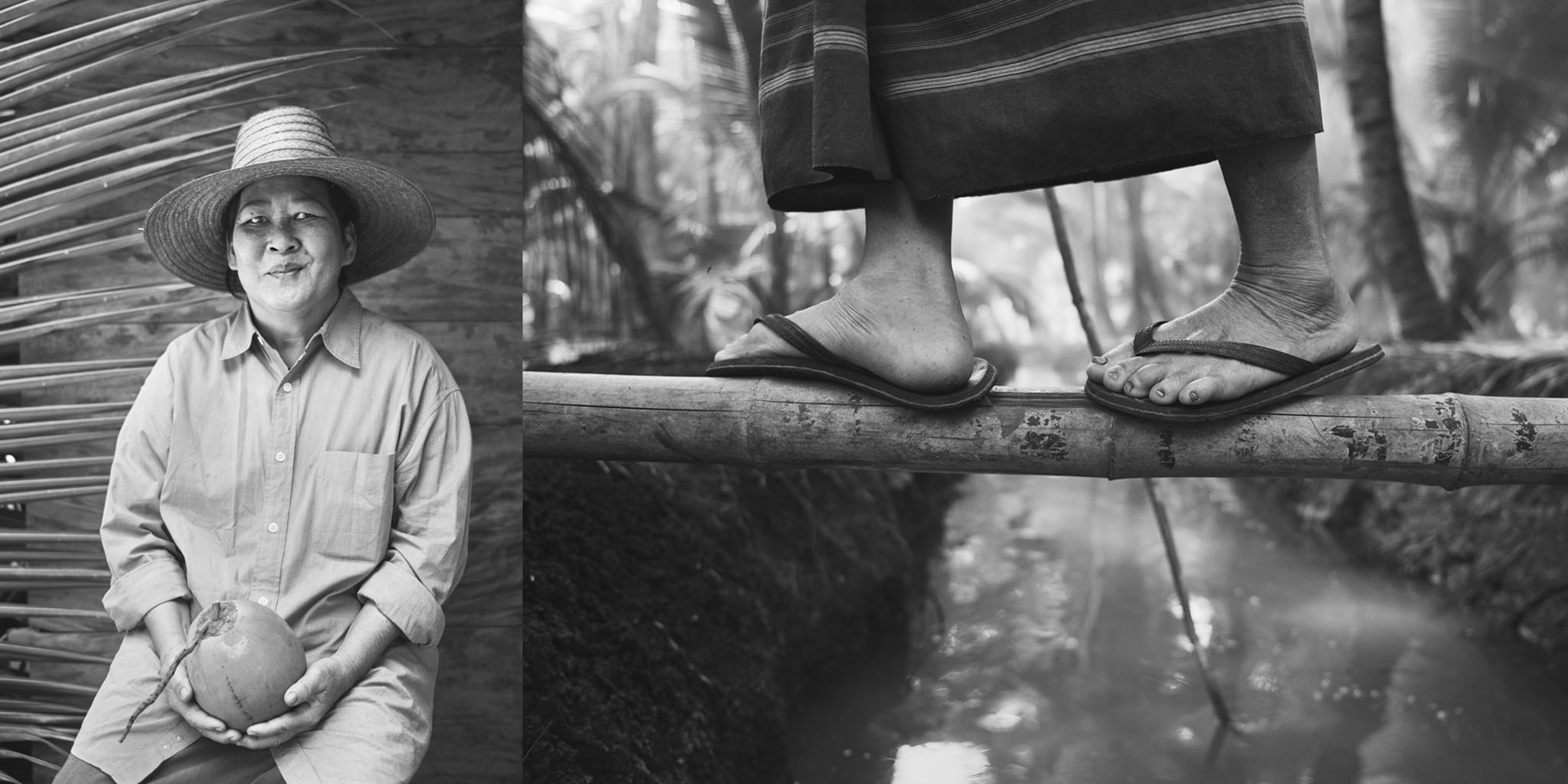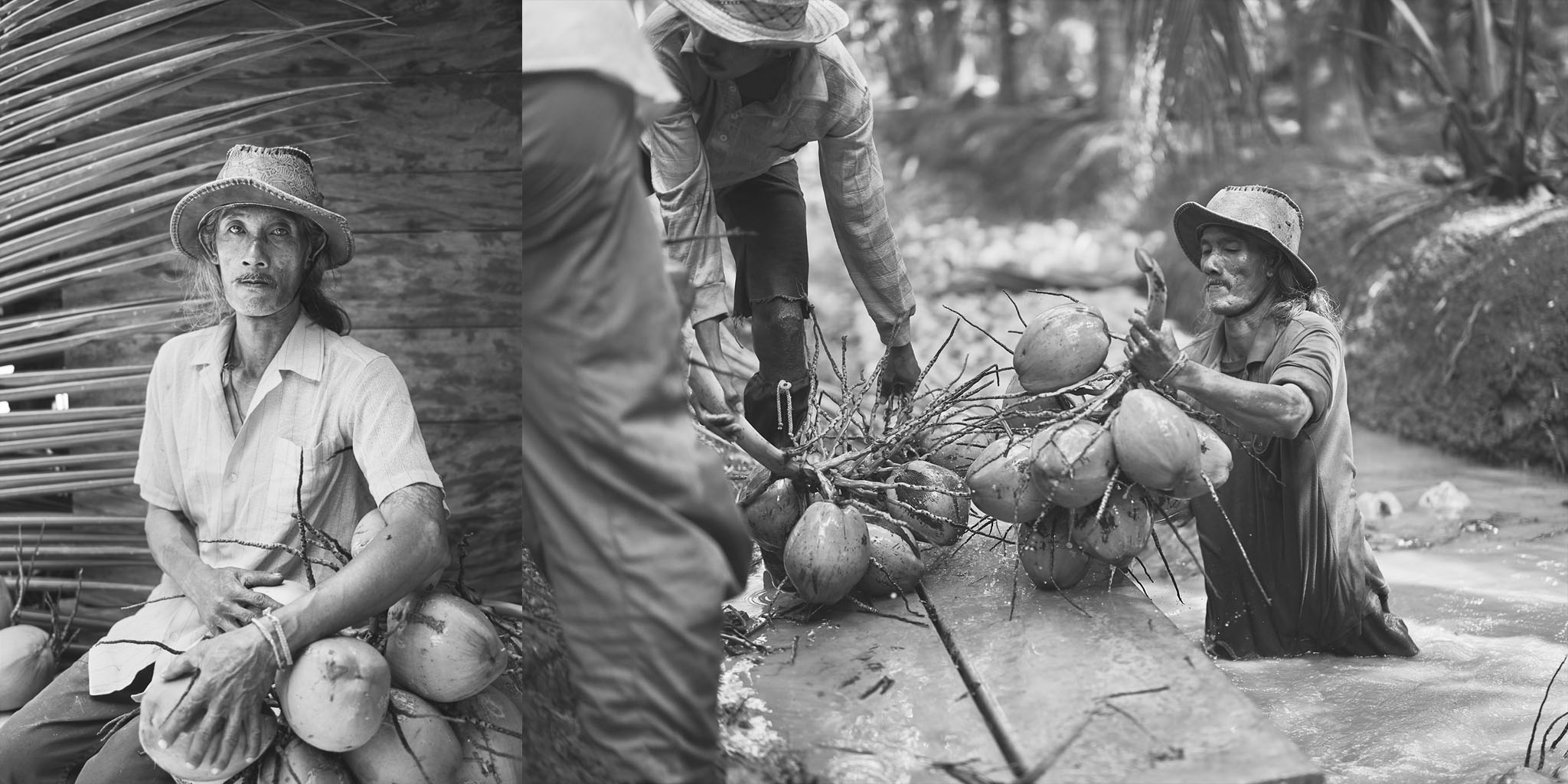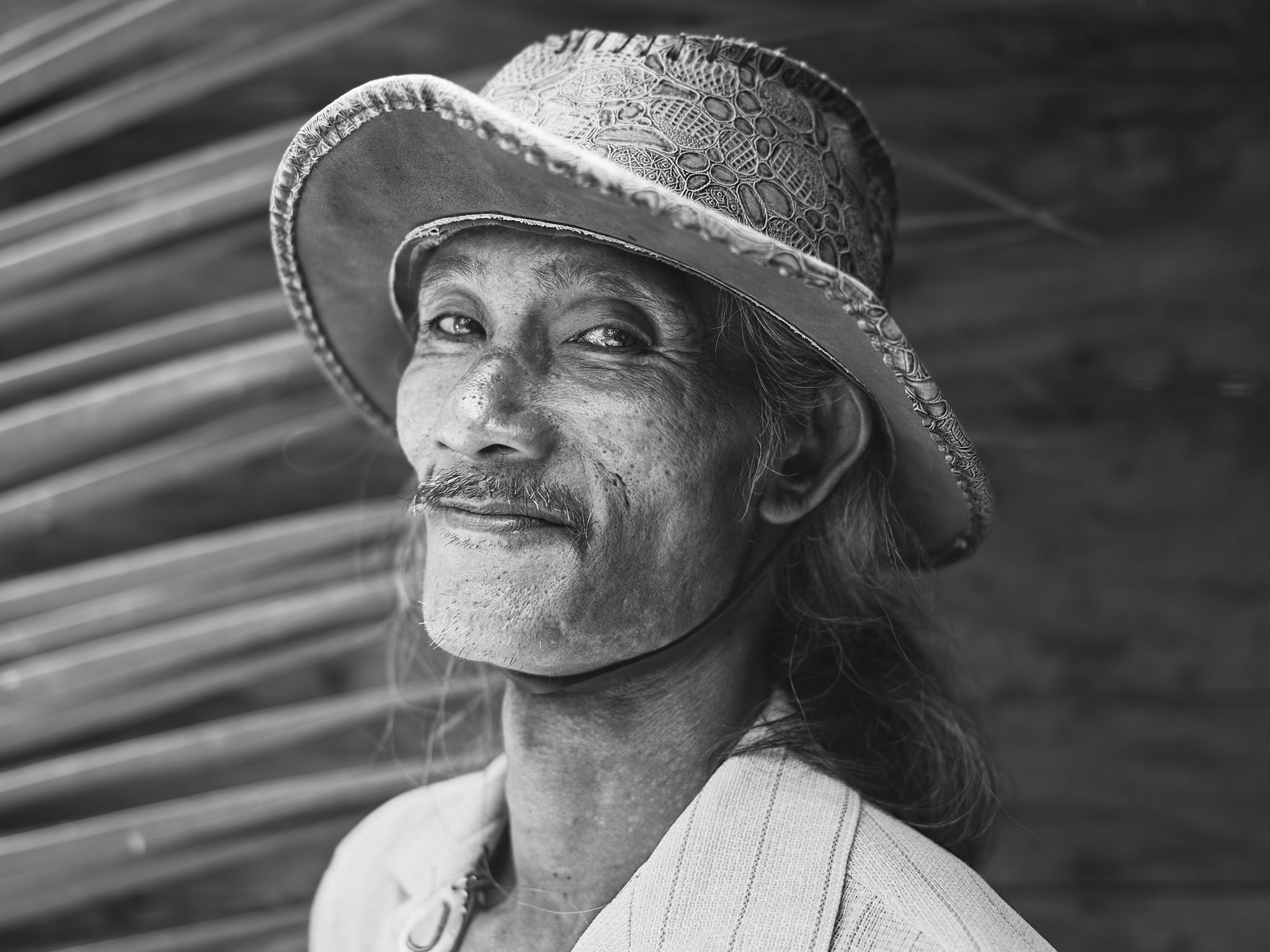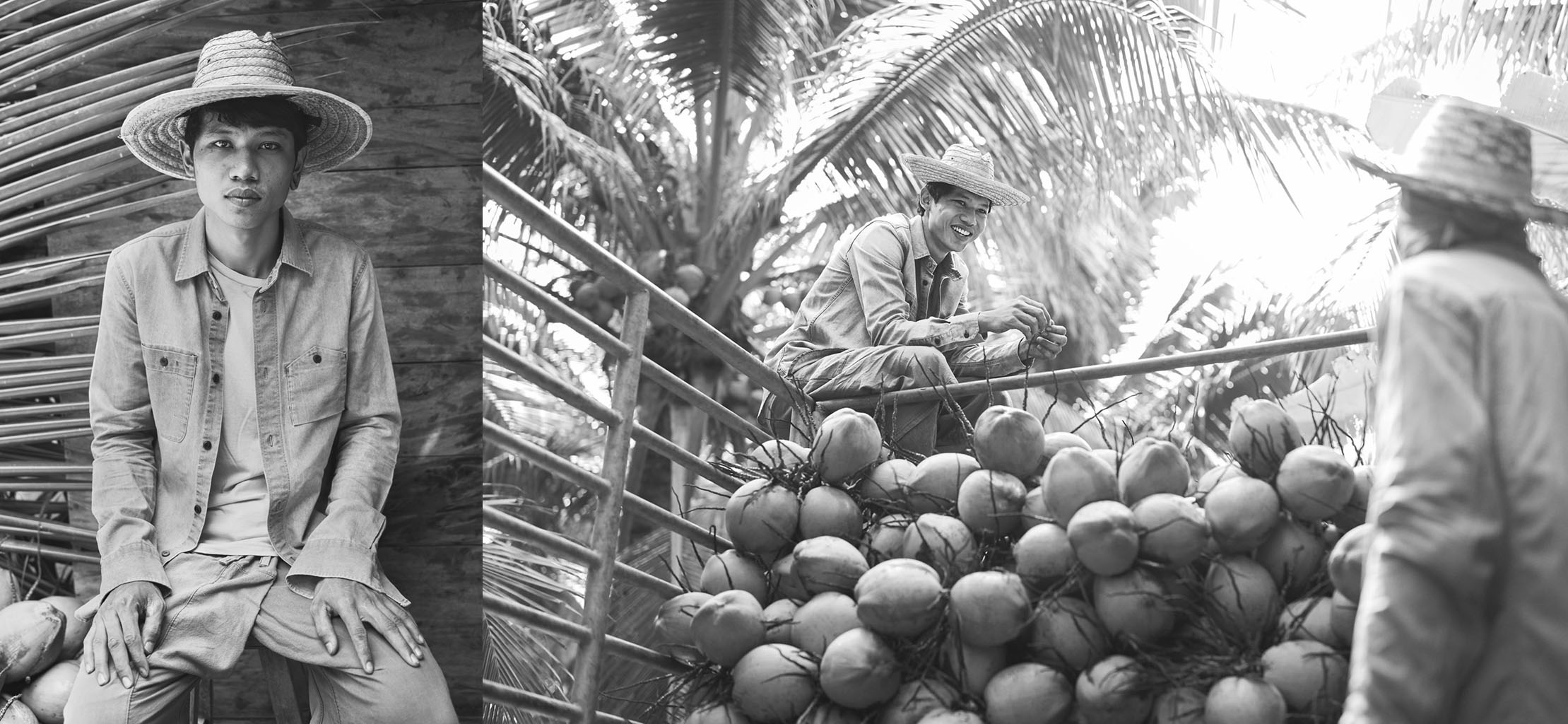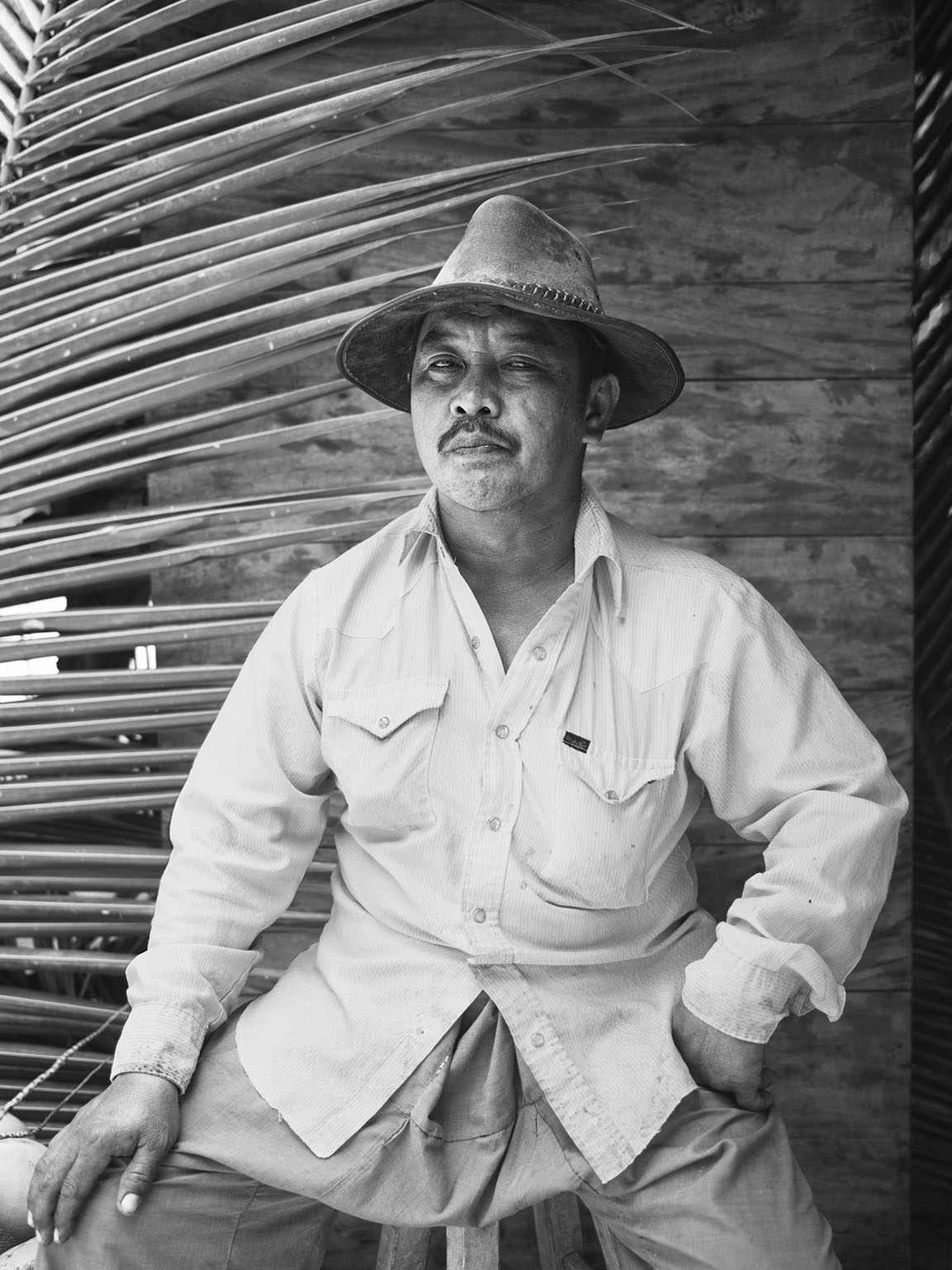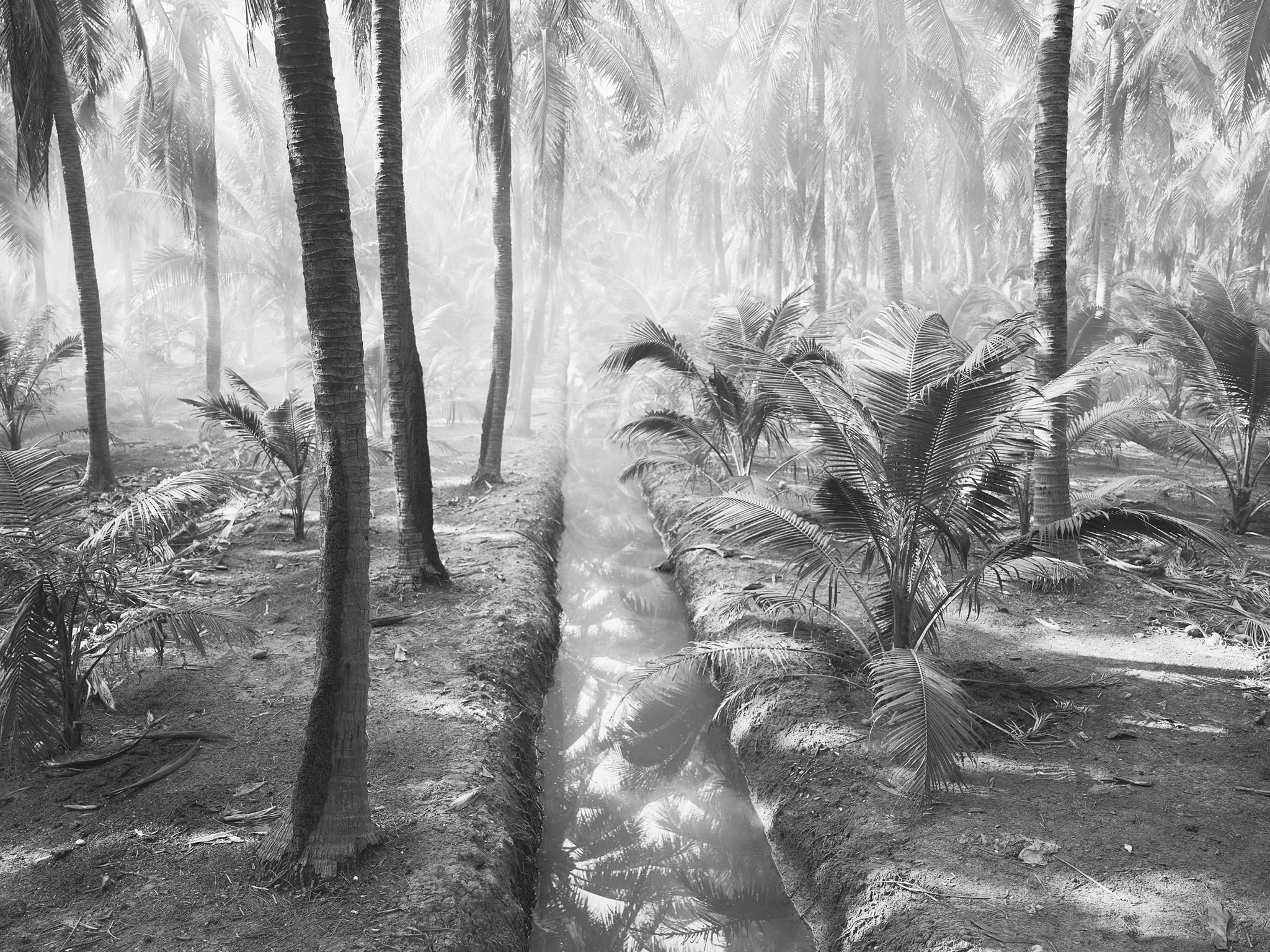 My Tools

These images were shot with a mix between my Phase One IQ250 back on an XF body, and a Leica SL, mostly with the 50mm 1.4 lens. This was to capture a mixture of slower, controlled portrait environments on medium format, and action on the 35mm format. This was my first time shooting with my new Leica- which I was skeptical about at first. Like Harmless Harvest, the Leica is expensive, and I connected in my mind to rich snobs. However, once I used it, I fell in love with it. First of all, the tonal range is incredible and it holds up well even beside the medium format Phase One files. Secondly, the thing is sleekly designed but built like a brick out of a single piece of metal, and strapping that thing around my back and climbing up a tree was never a problem.

I shot a lot of natural light, but some portraits were augmented with large soft modifiers powered by either a Profoto B1 or the new tiny Profoto A1. We often just used these handhand and without stands, as we had to leap across the irrigation canals with our gear and less was more.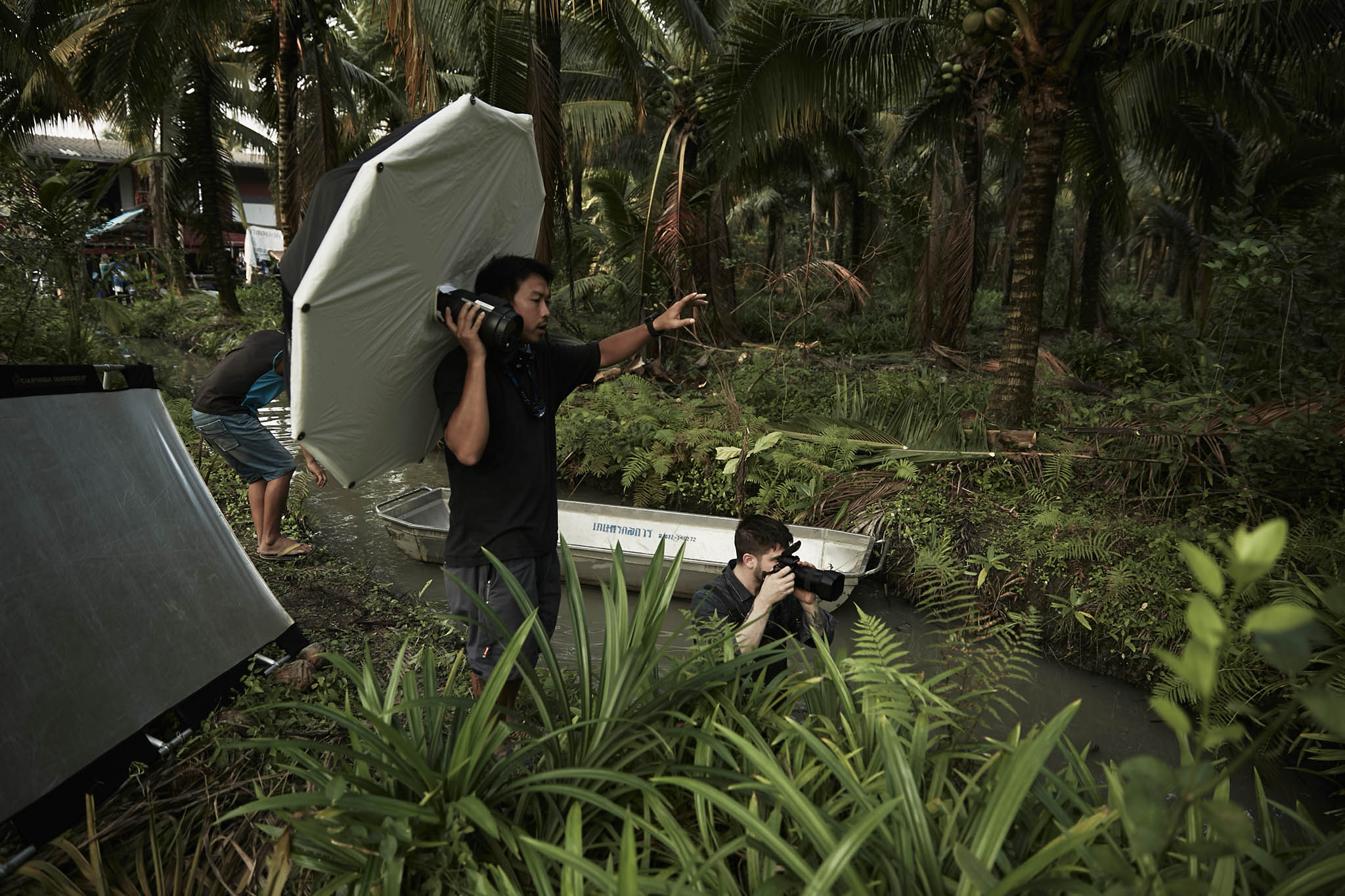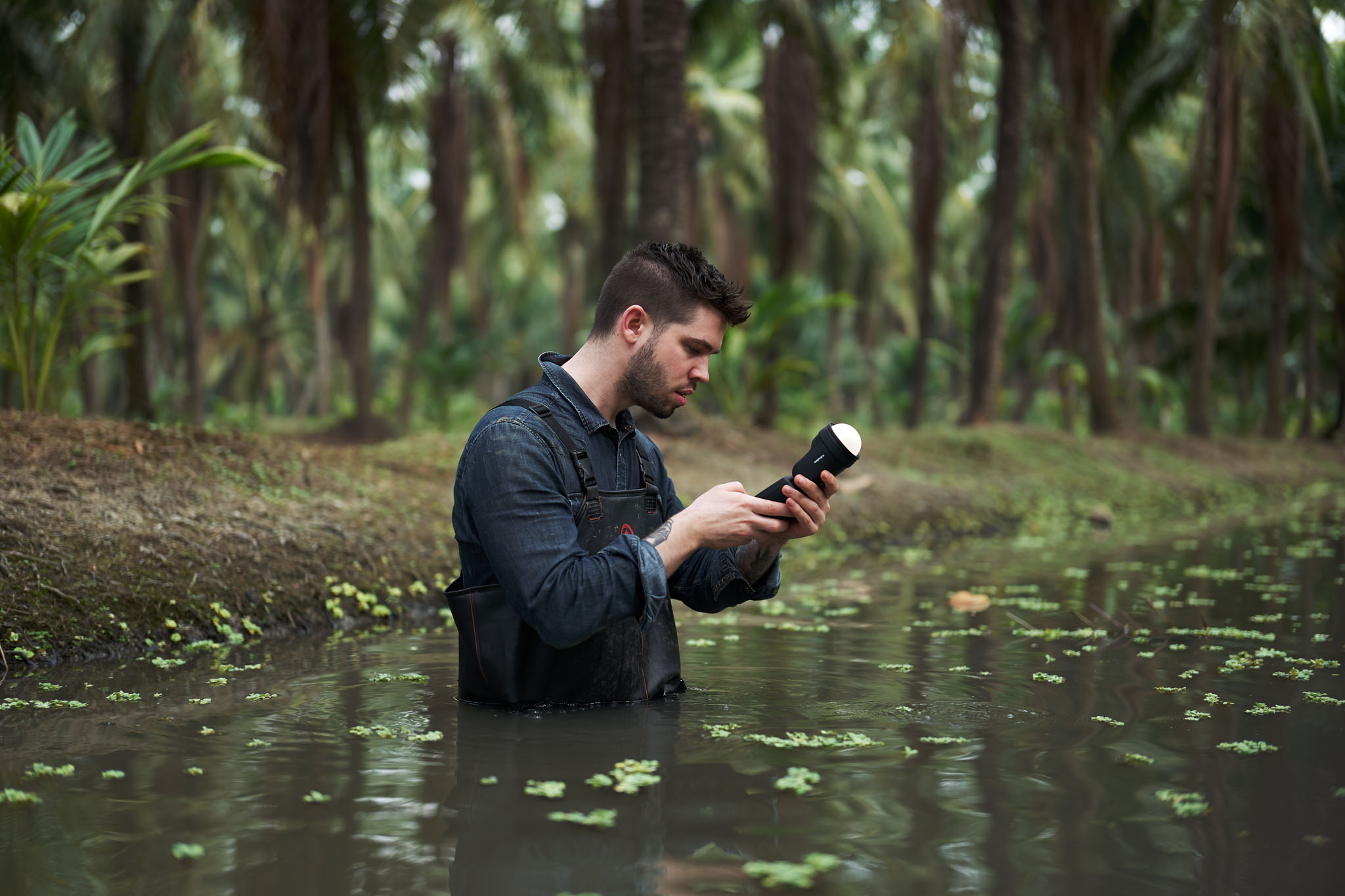 Programming a Profoto A1, which can sync directly to my Phase One XF's internal air remote.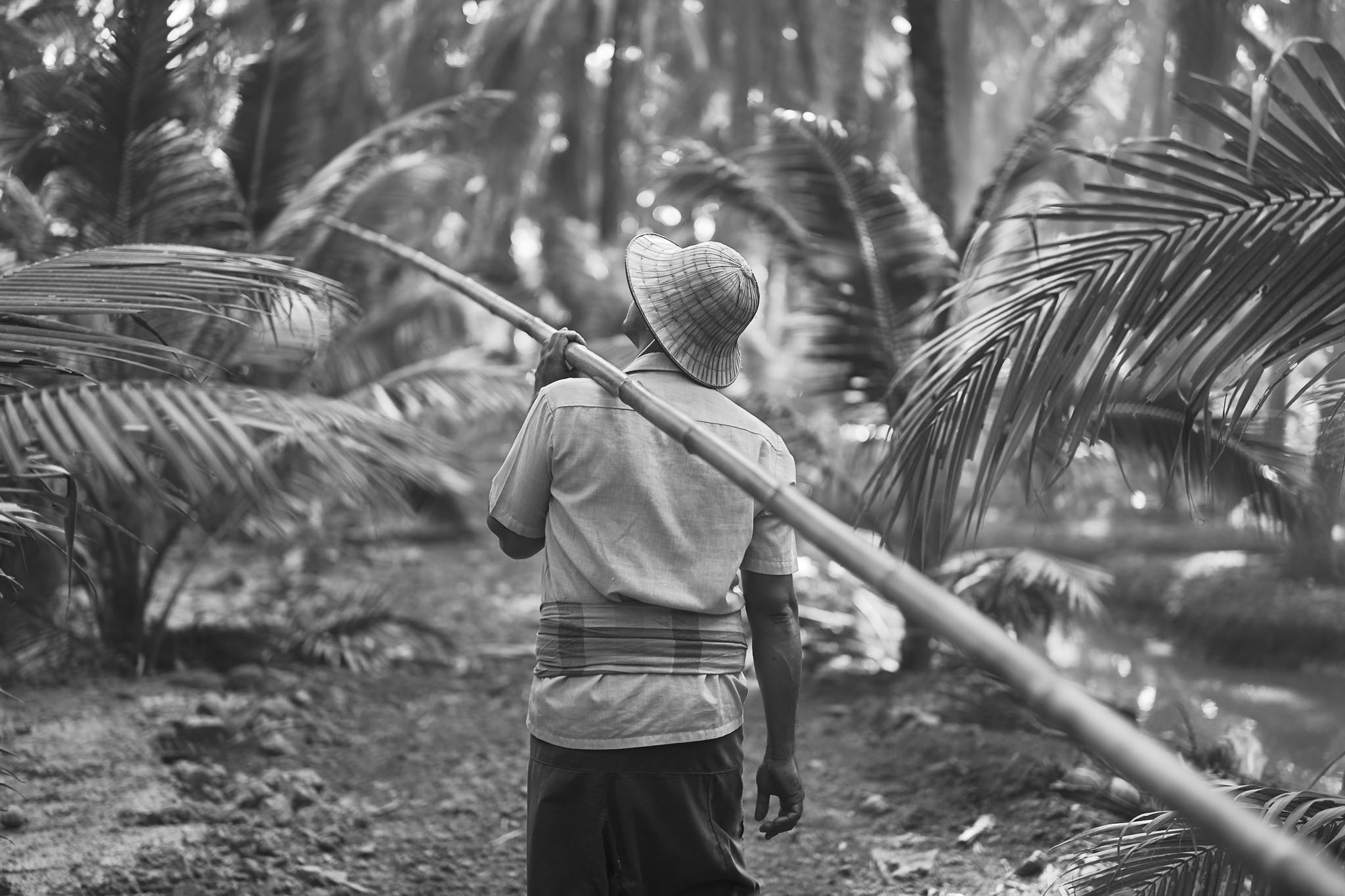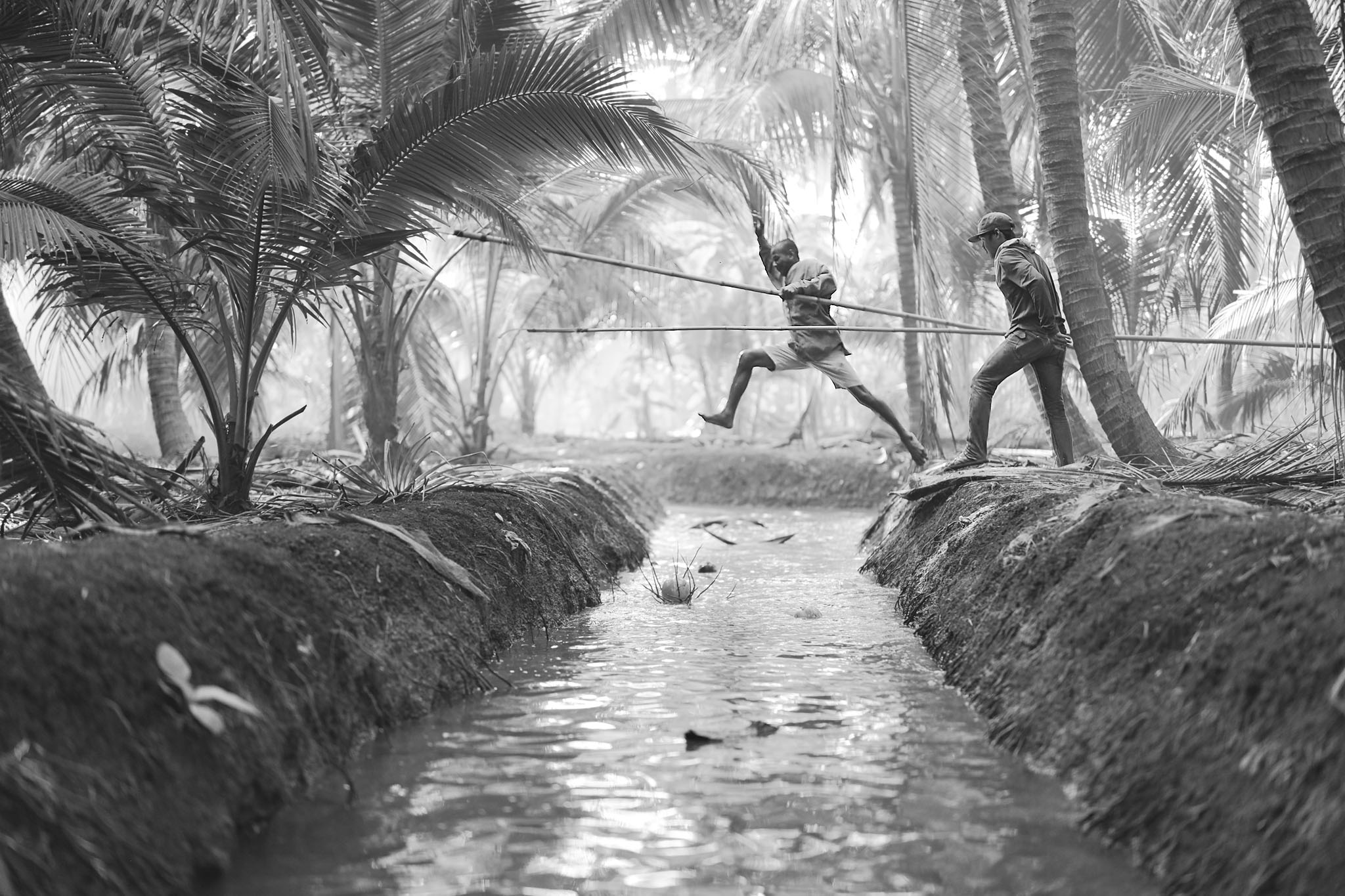 Leaping over an irrigation canal is generally faster than walking around the long way...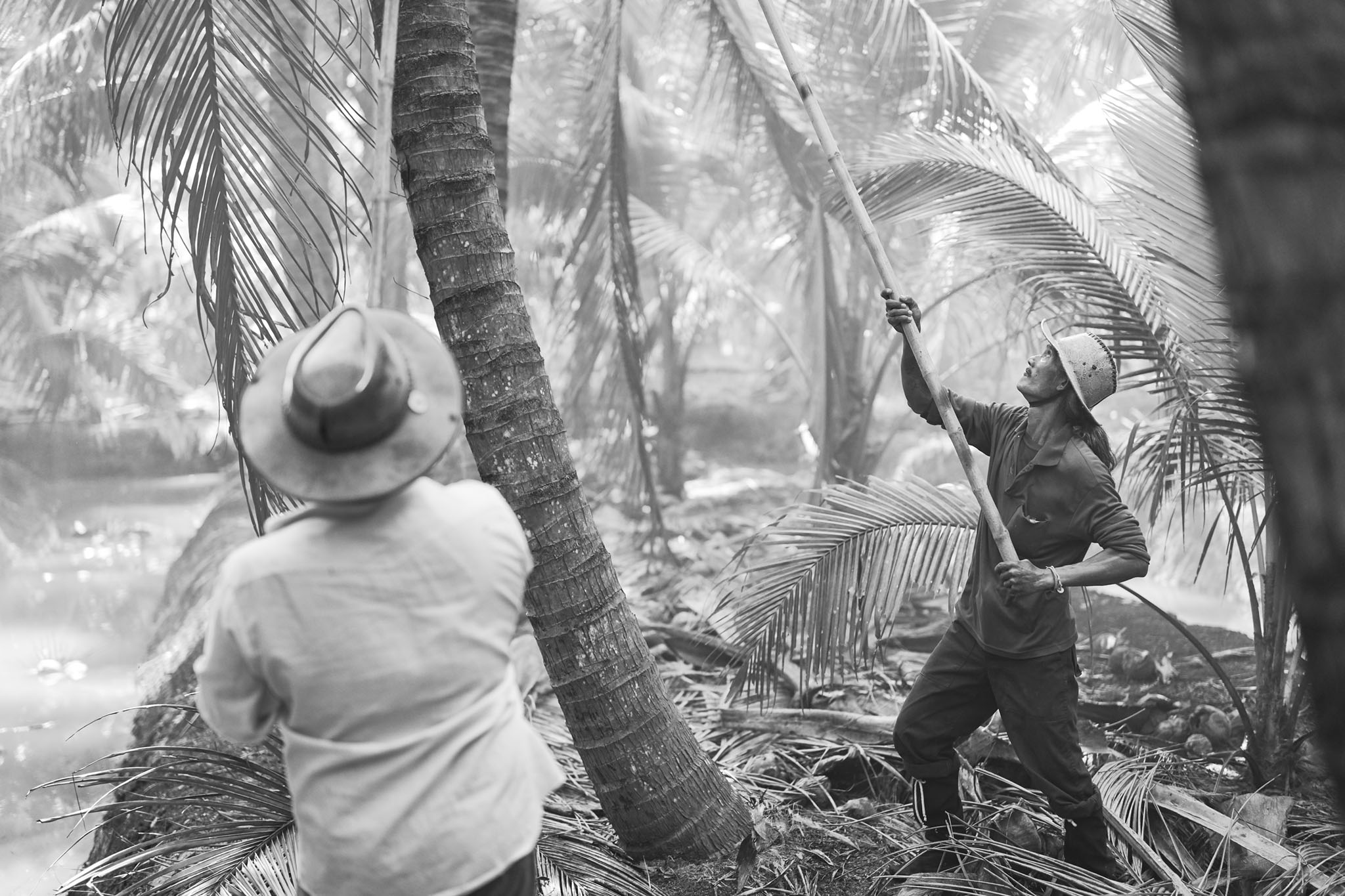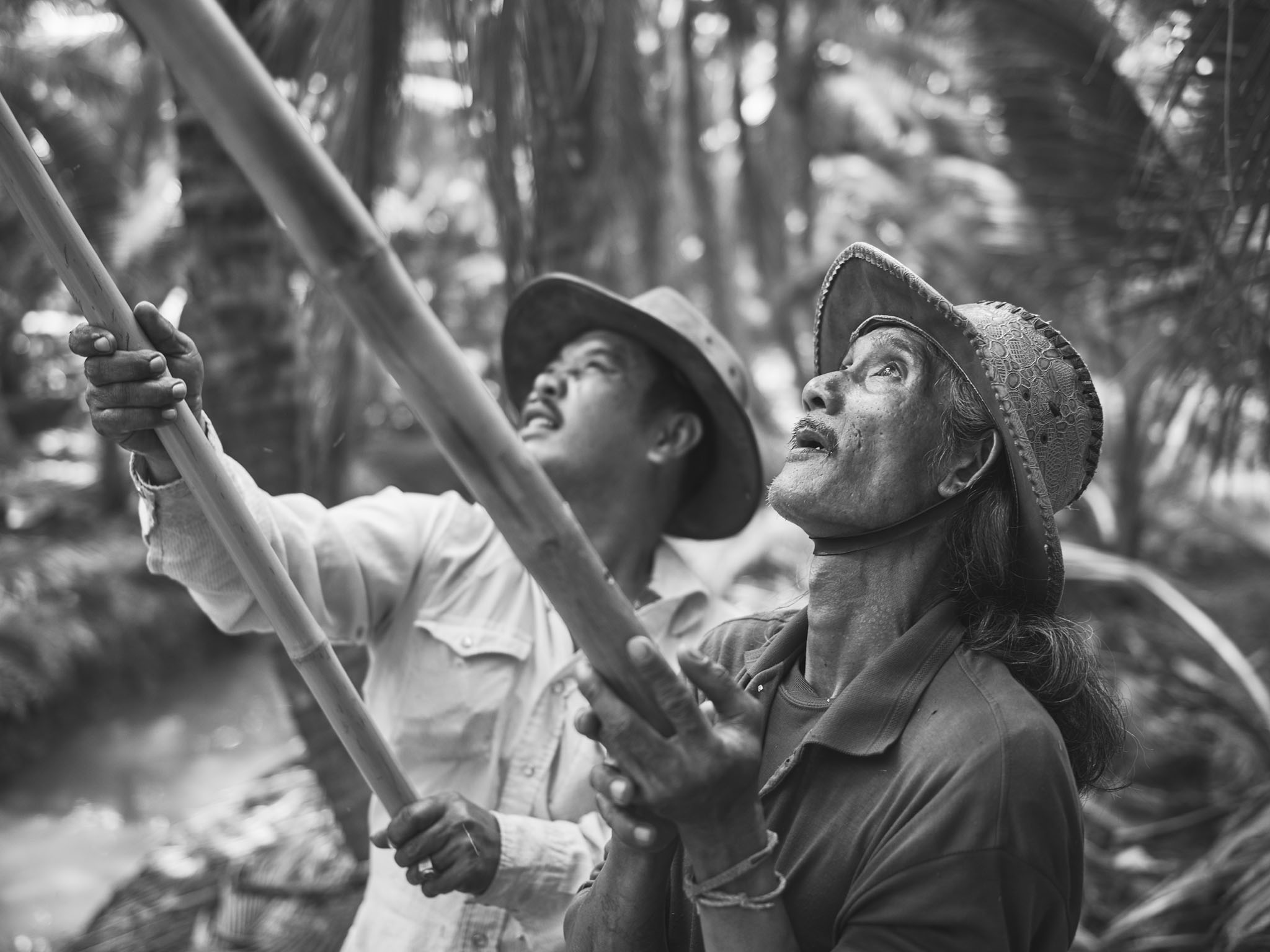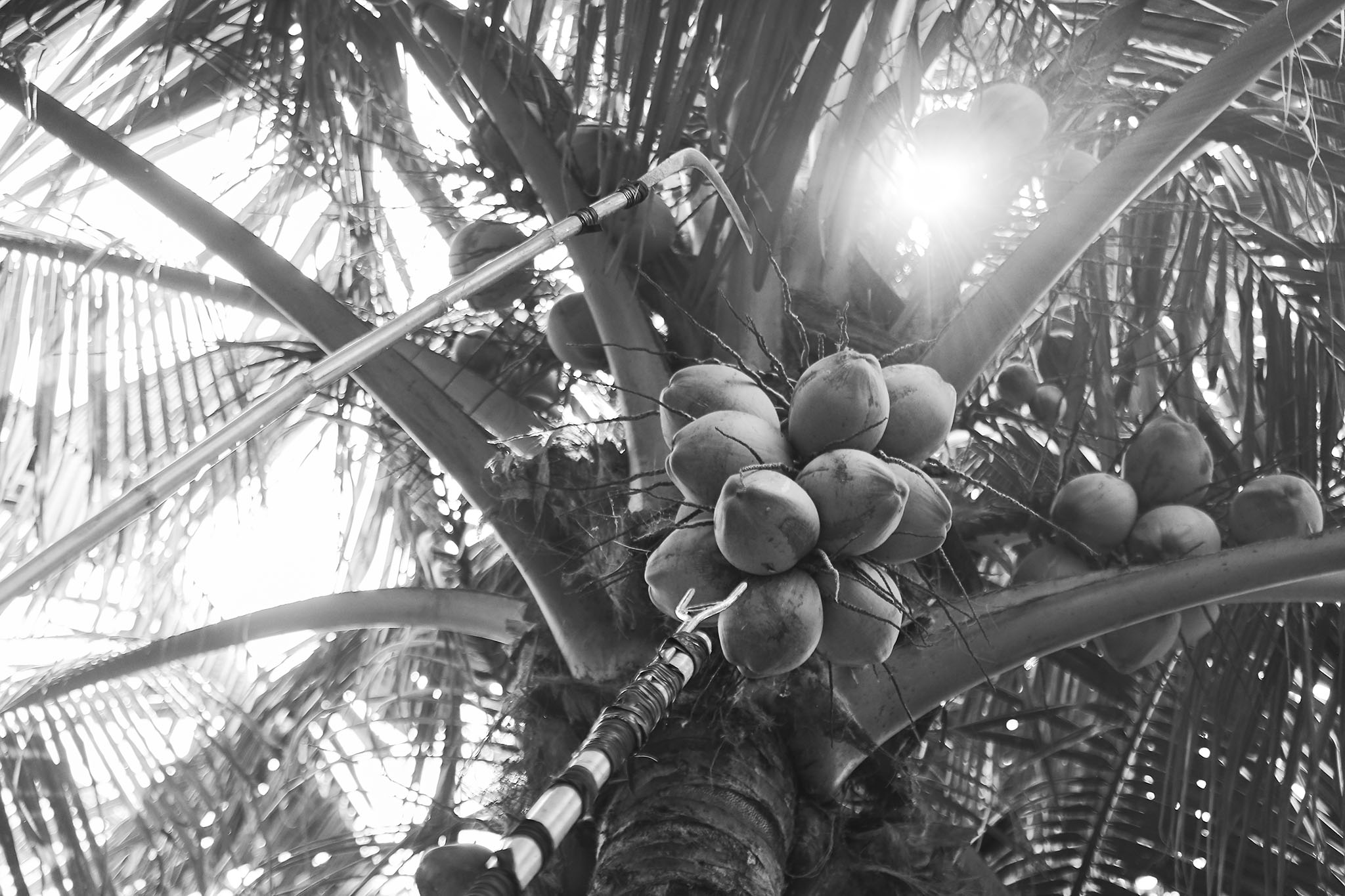 Two harvesters work together to impale the stem of coconuts, and direct the coconuts to fall safely fall in the irrigation channels beside the trees.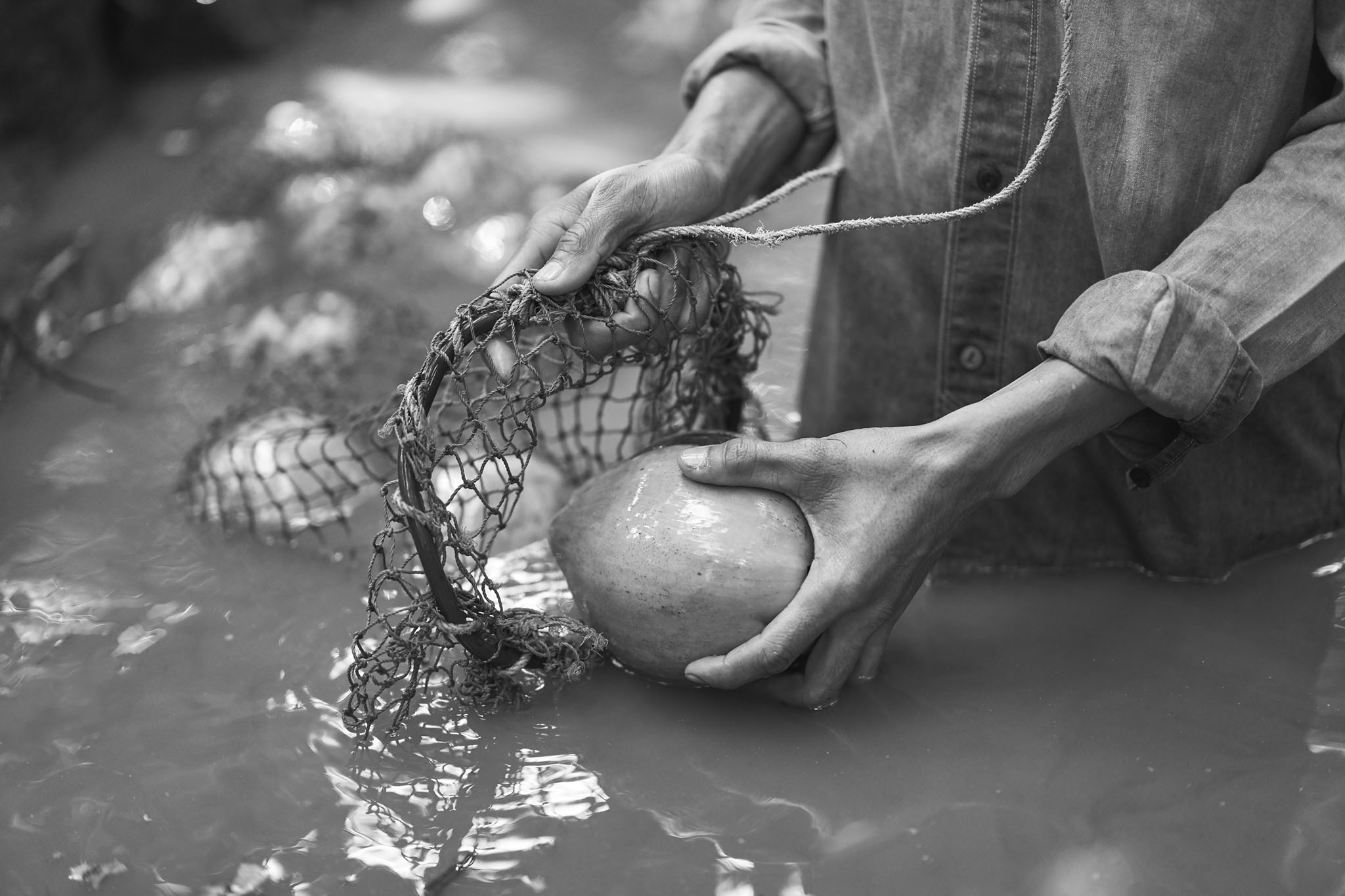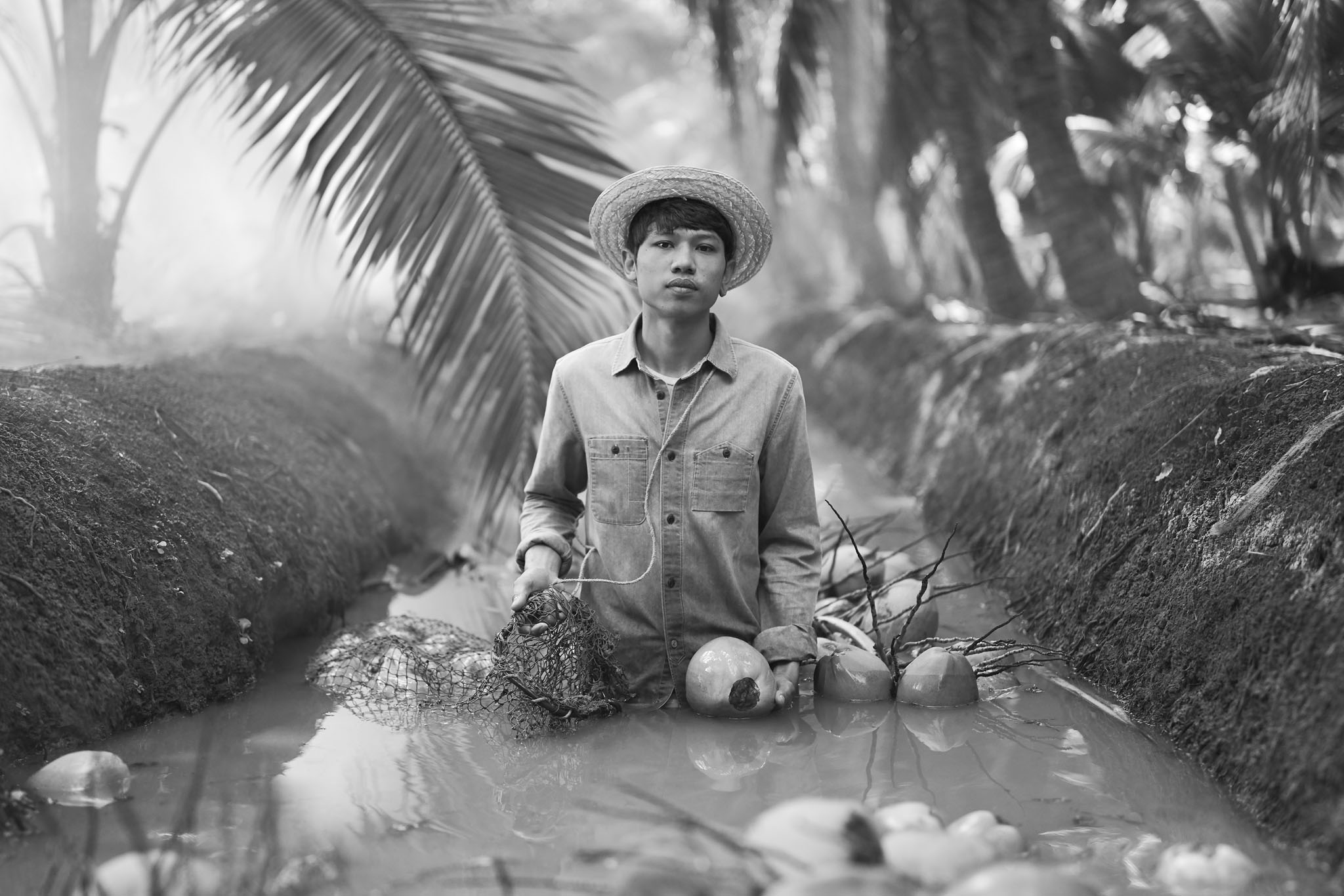 A young harvester collects the fallen coconuts, roping together the large clusters, and scooping up the smaller coconuts separated from the batch.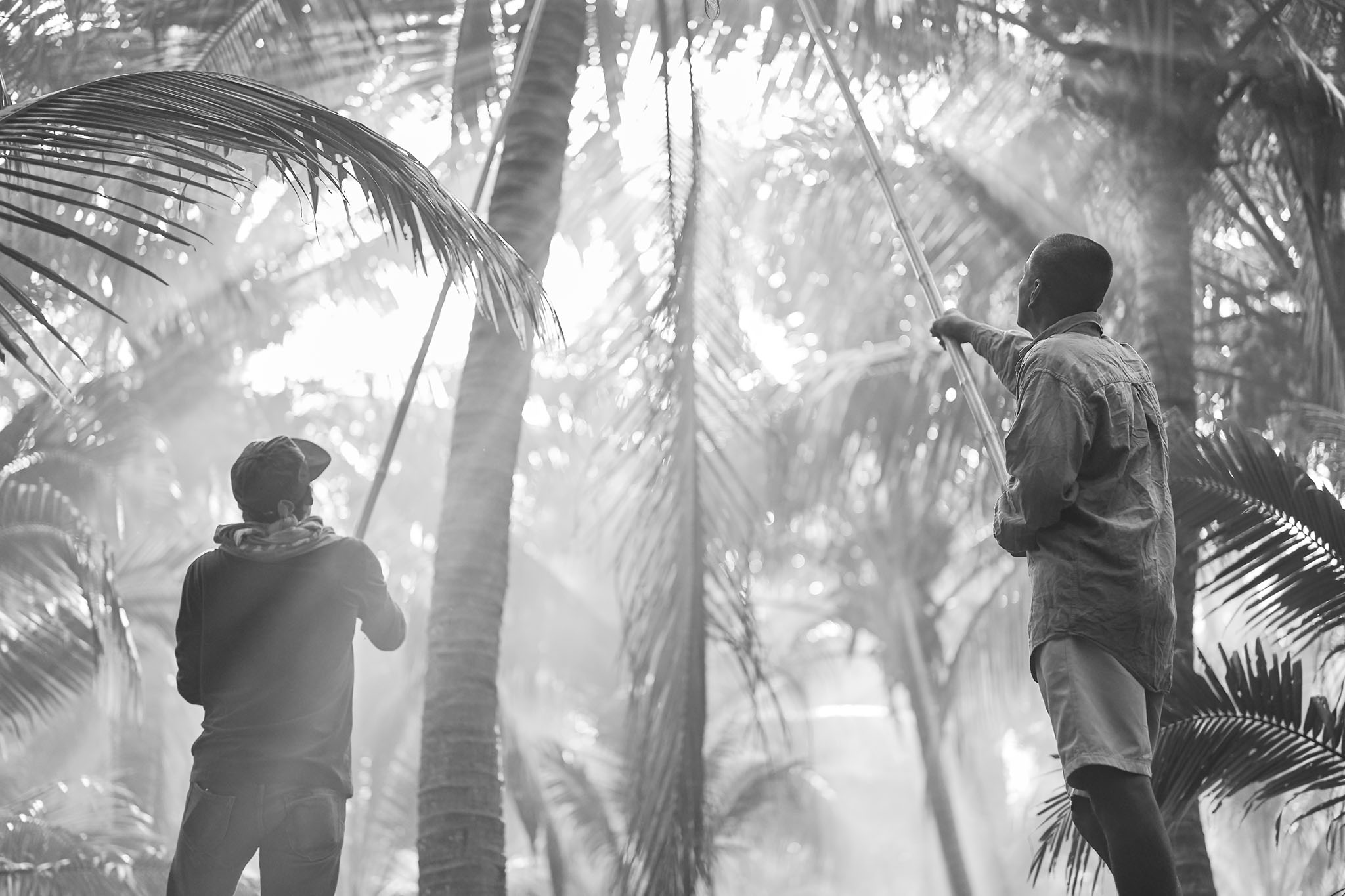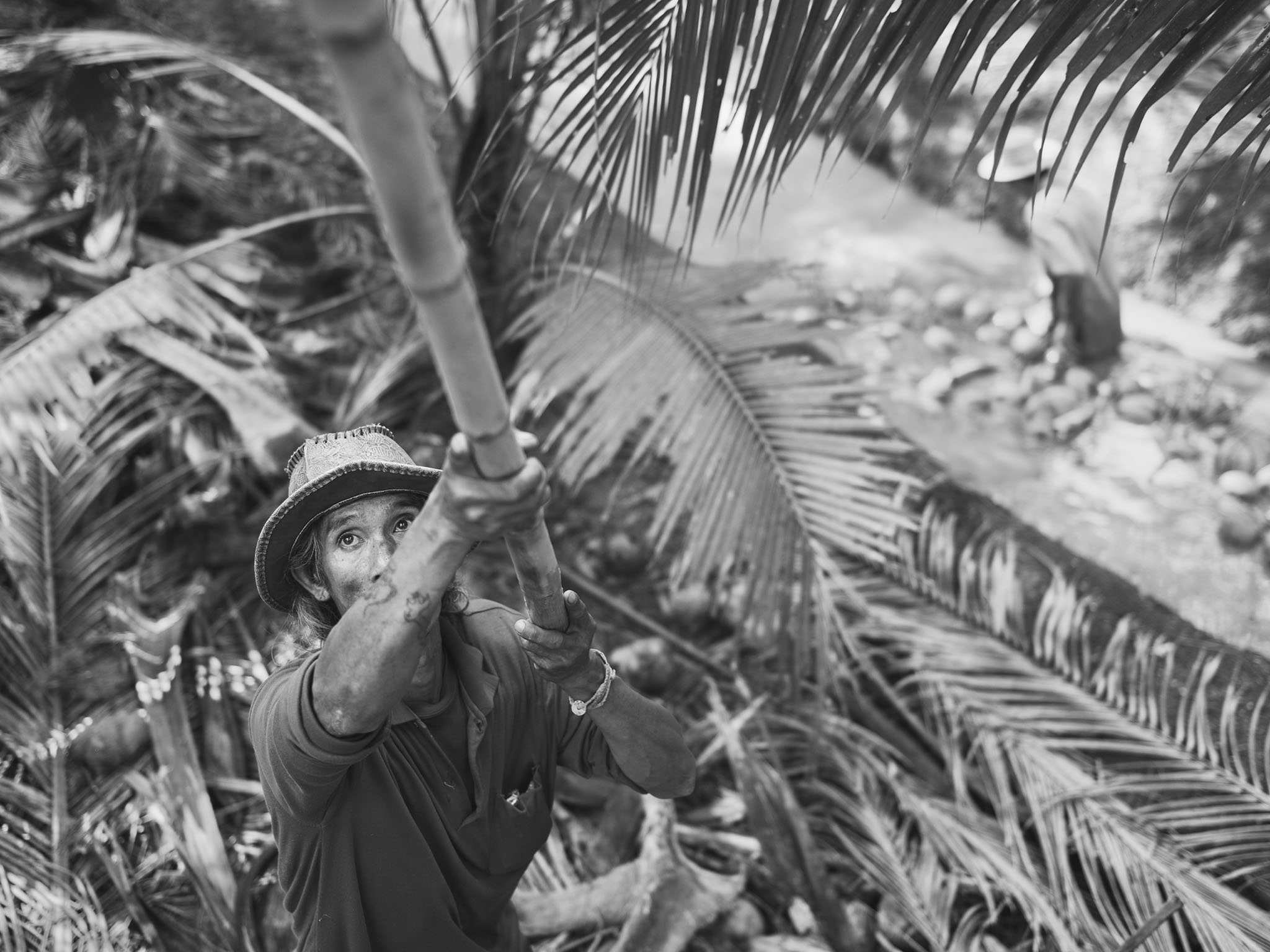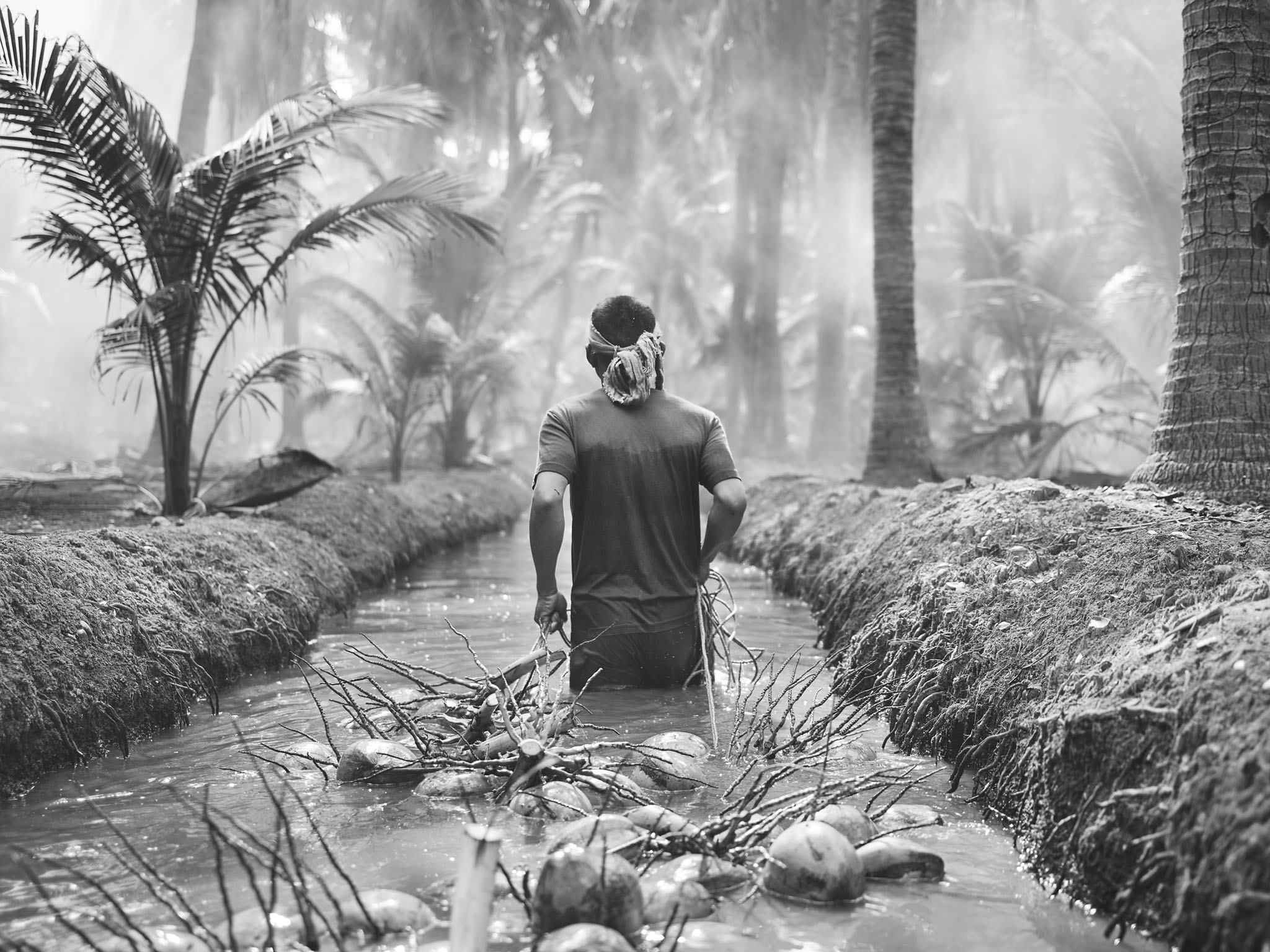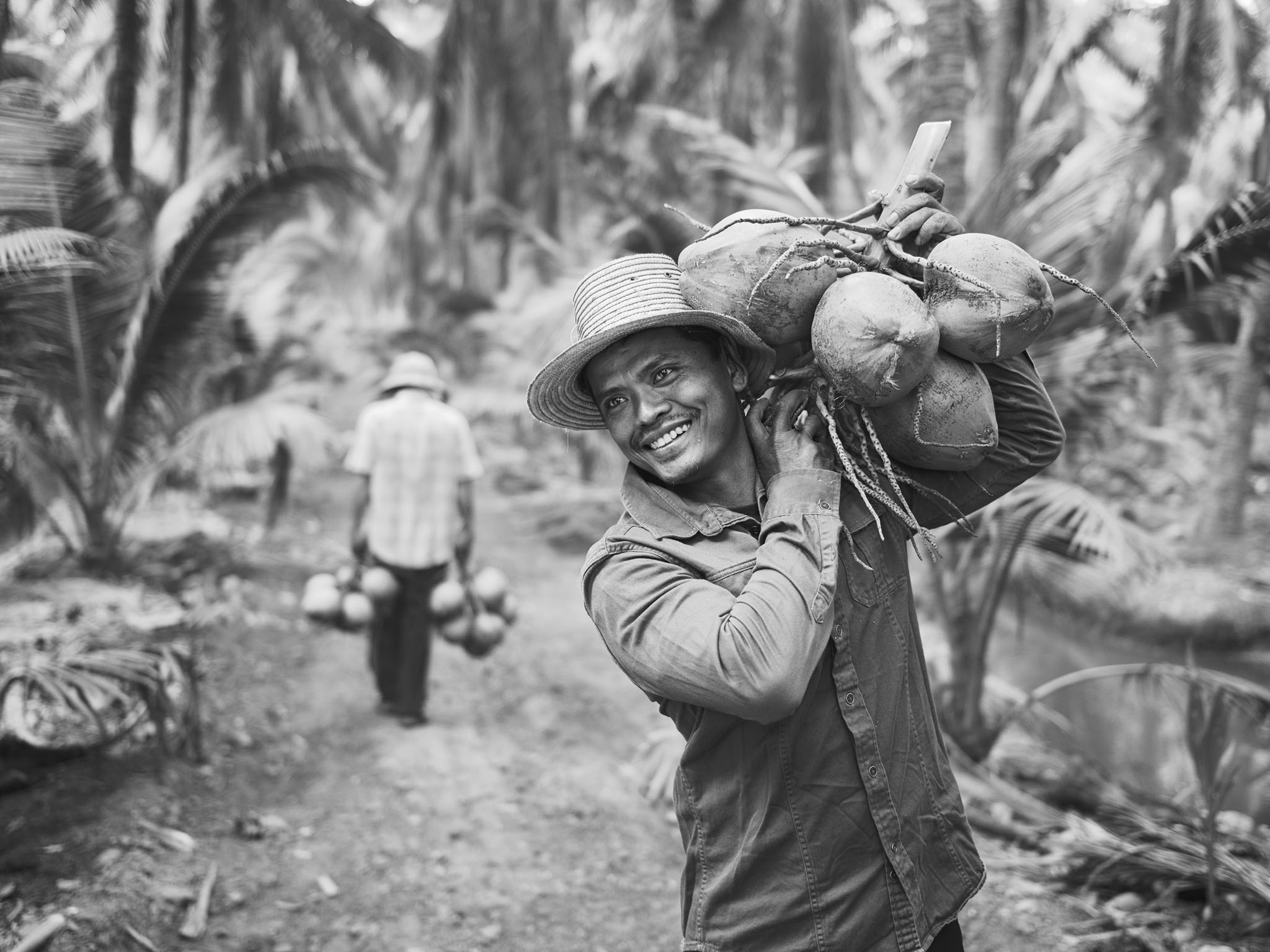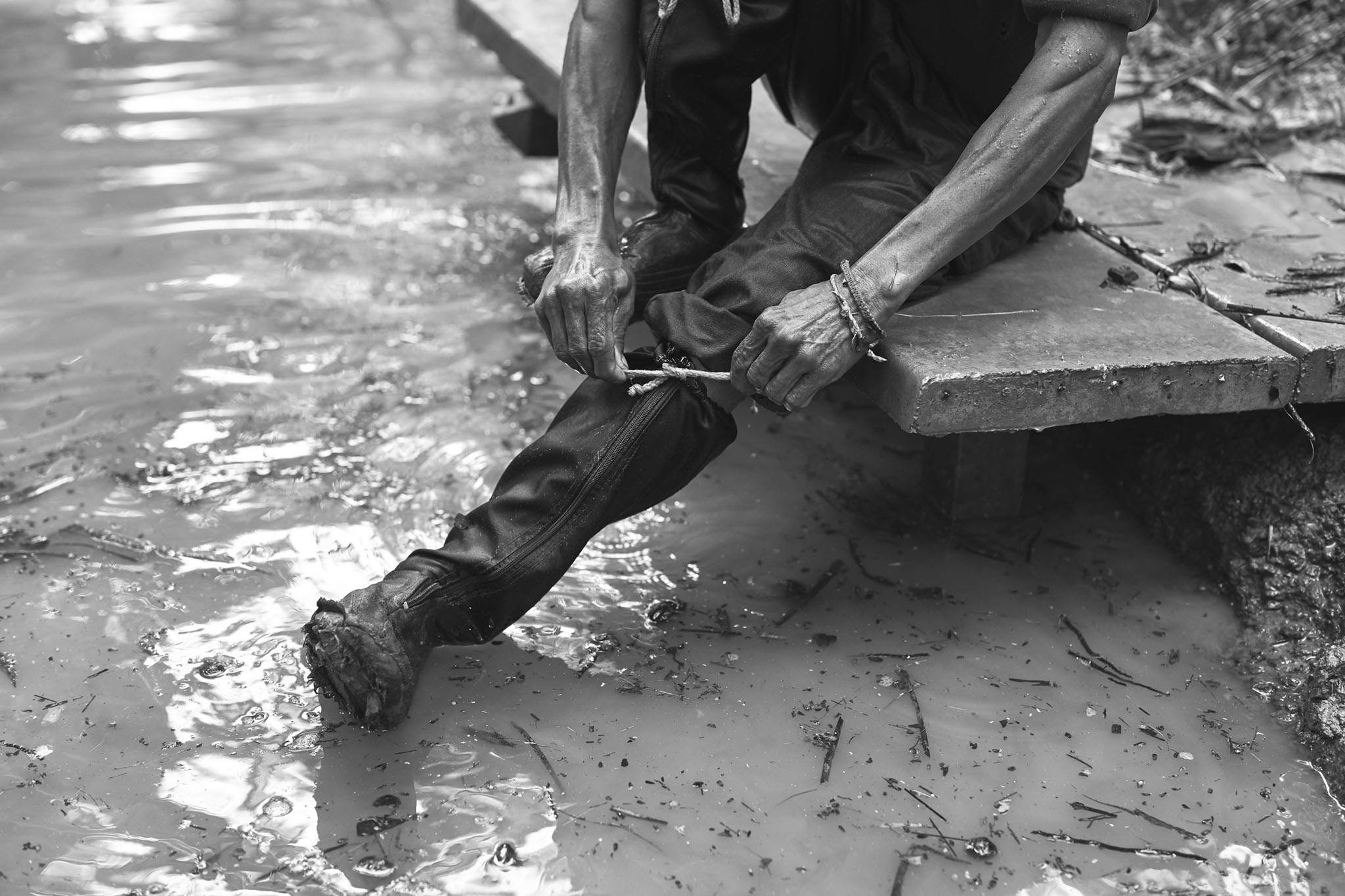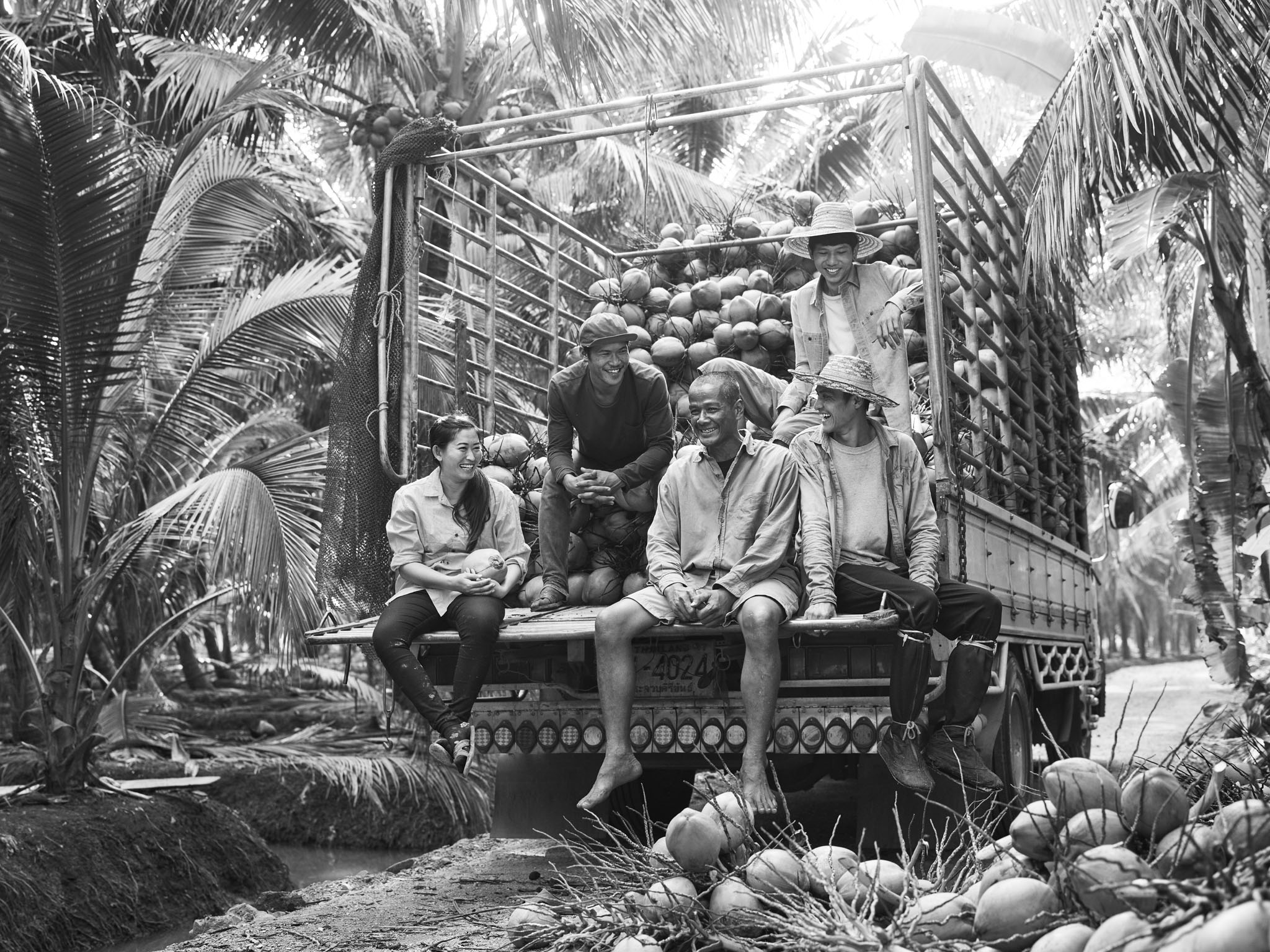 Coconuts bunches are meticulously sorted through, counted and loaded up in a truck.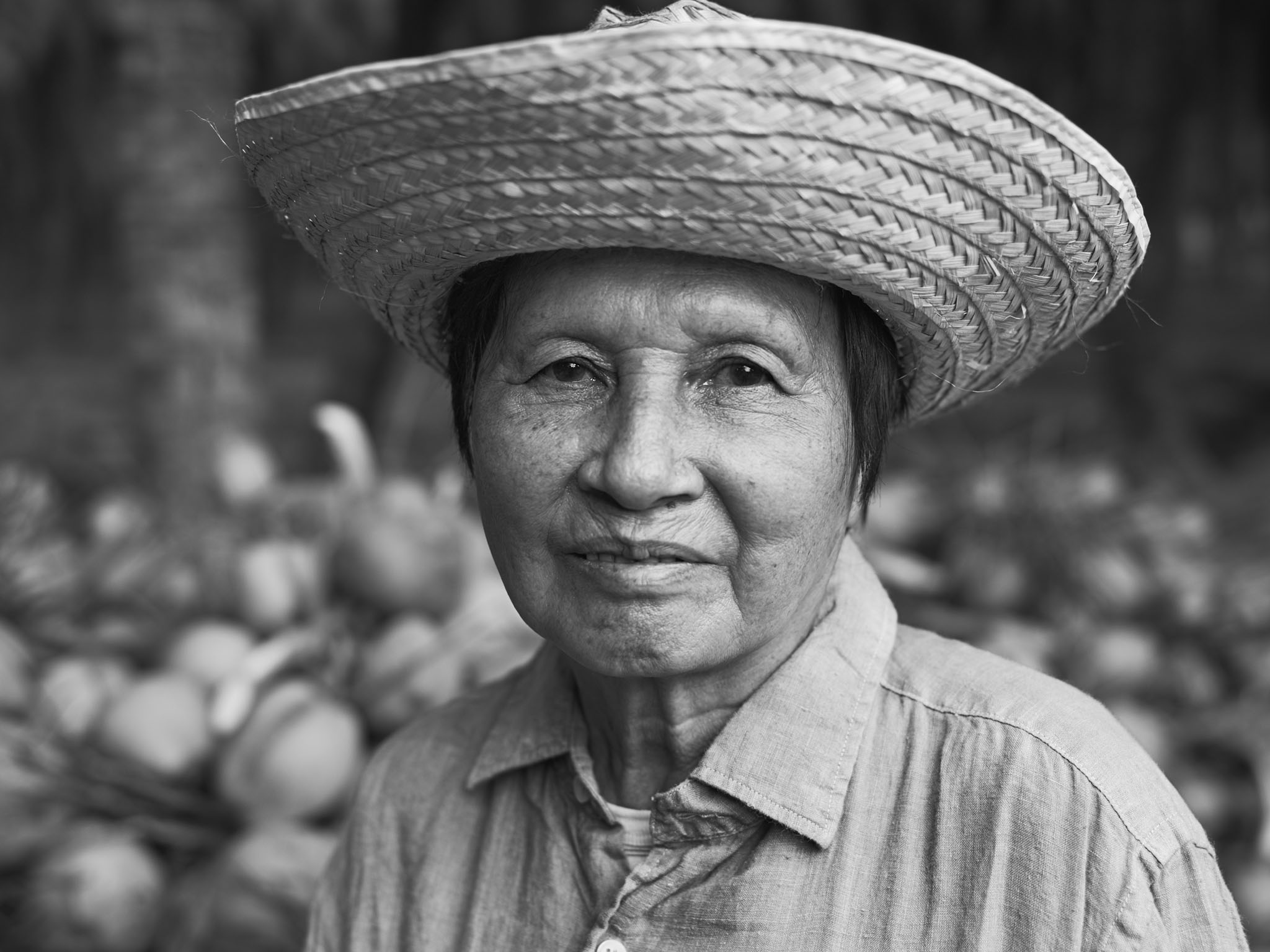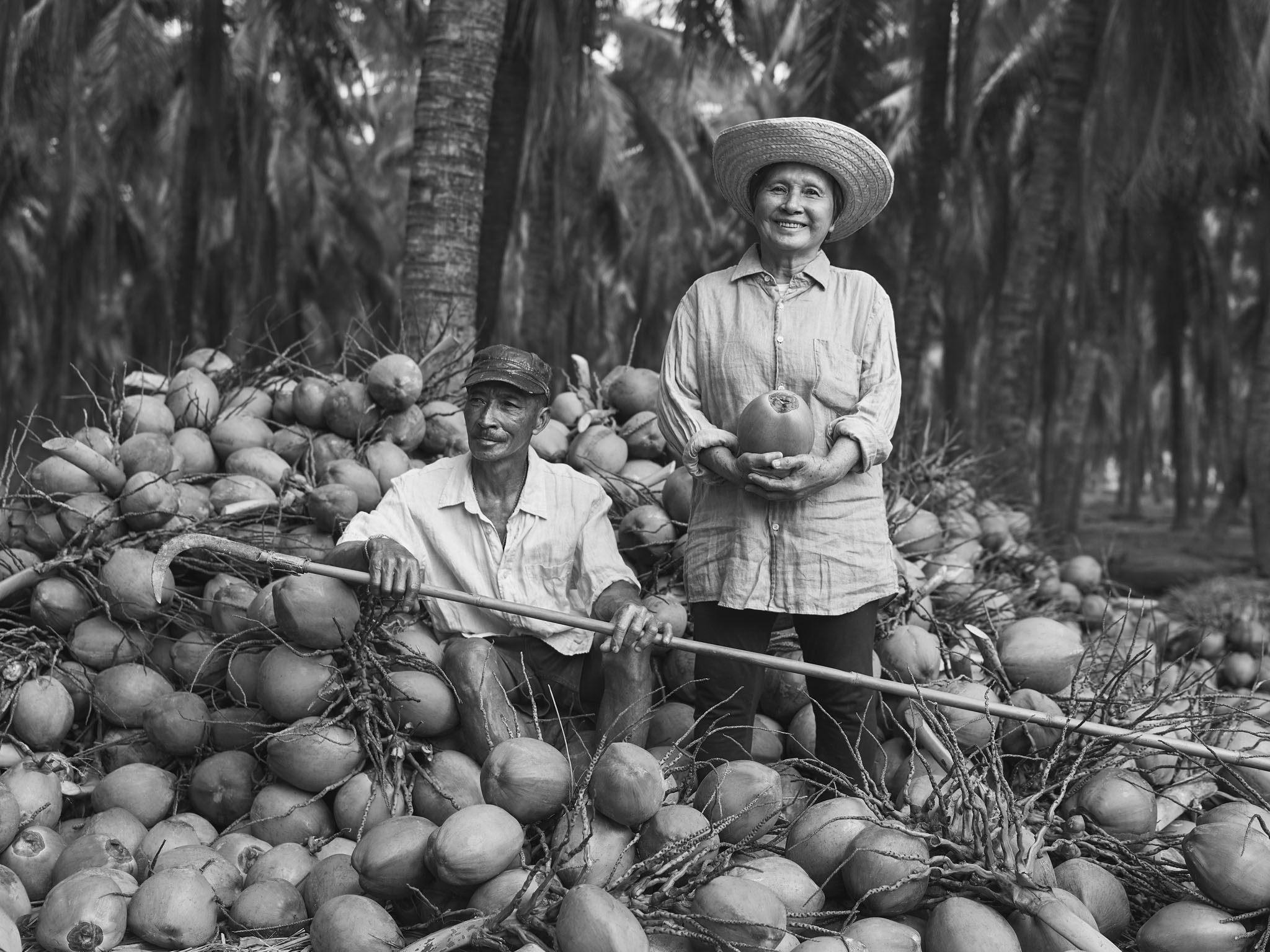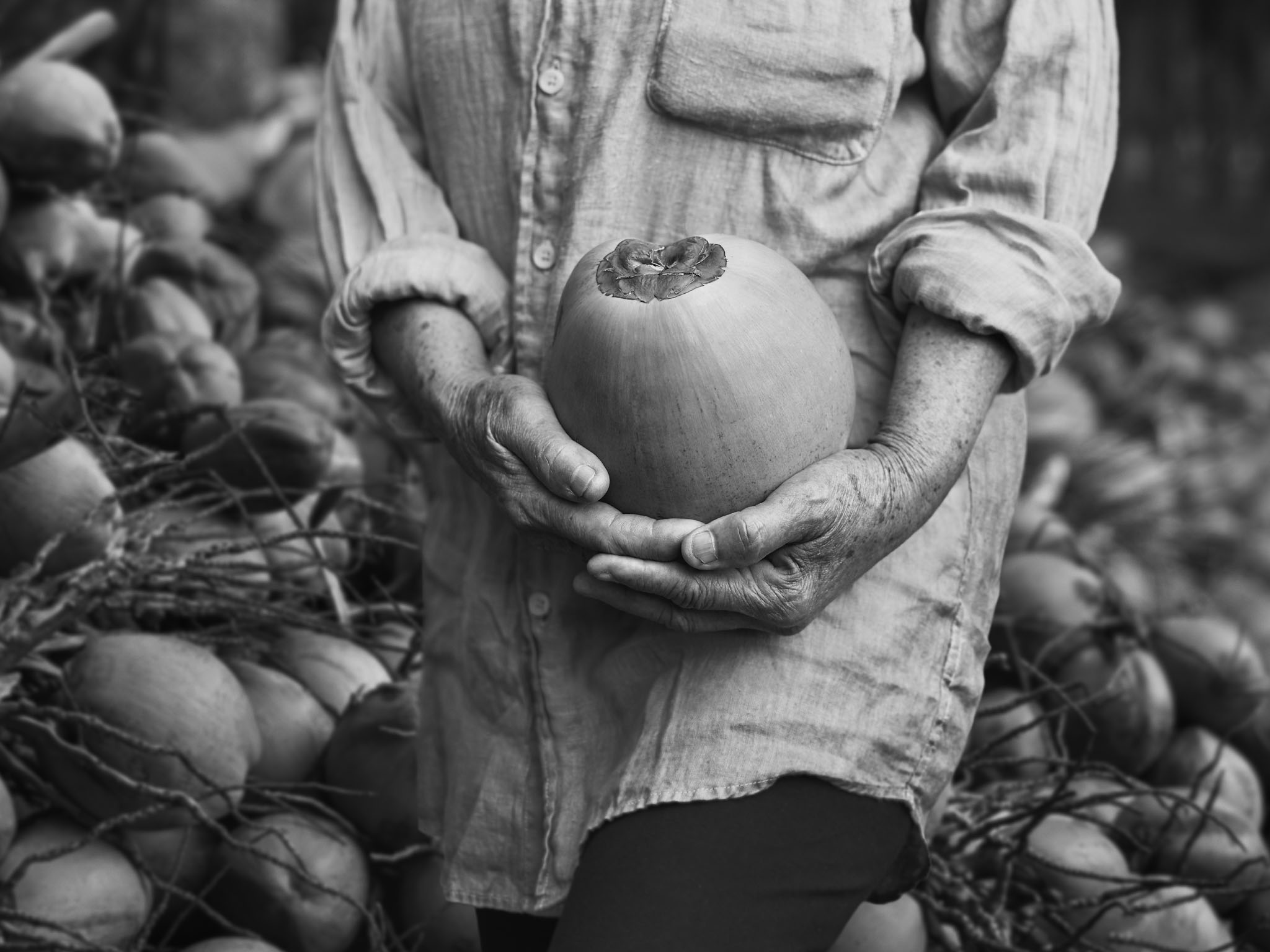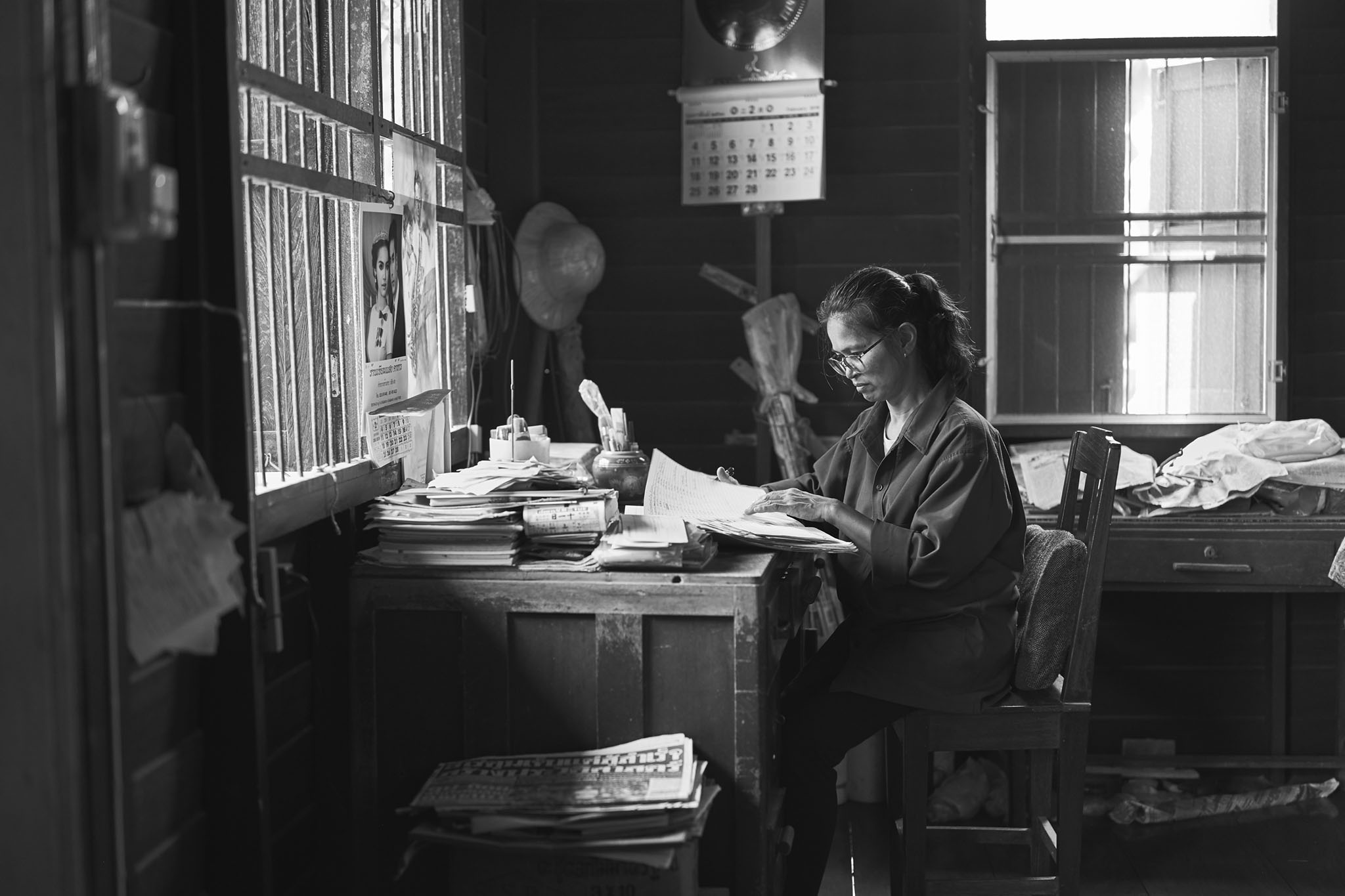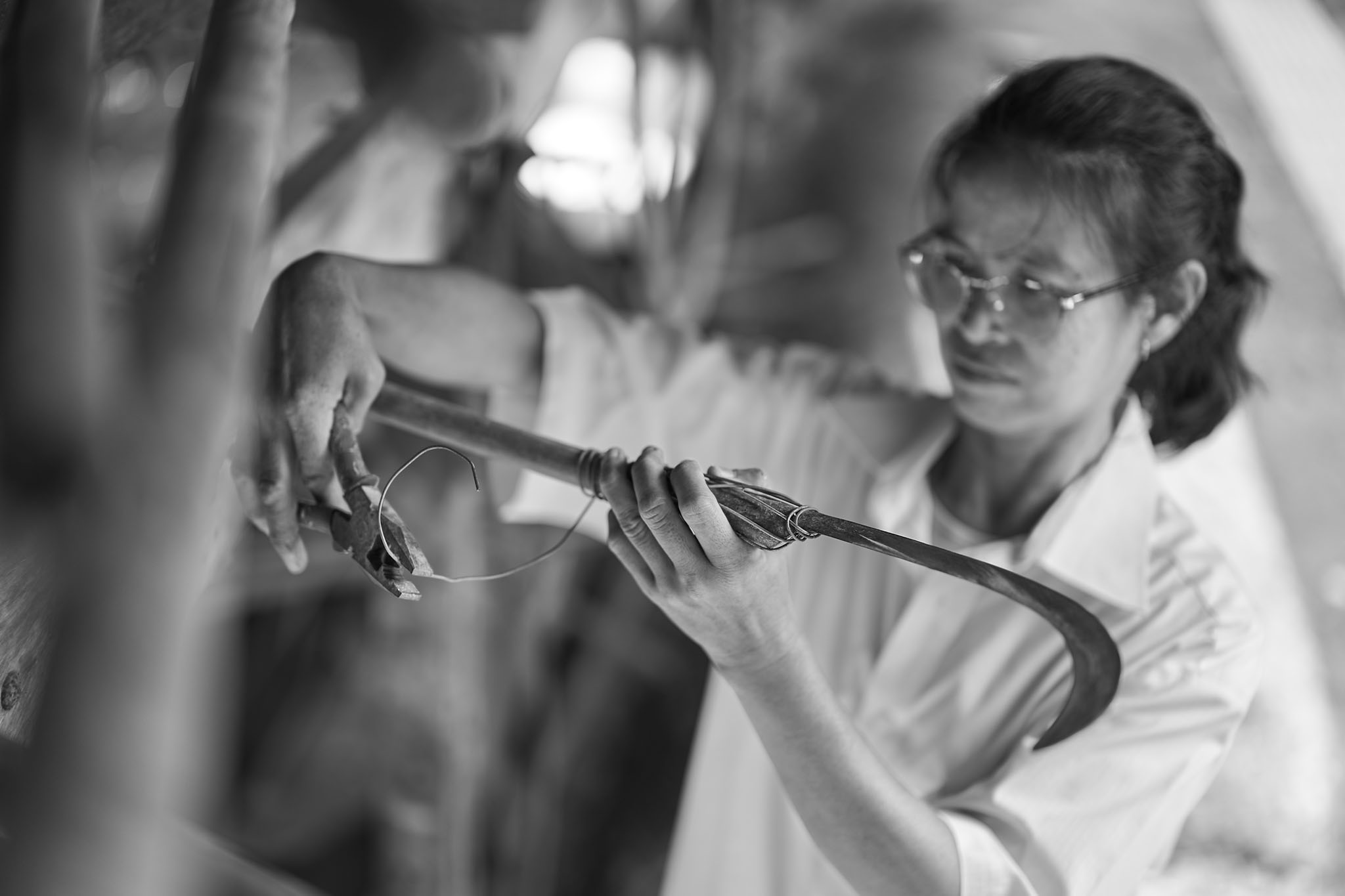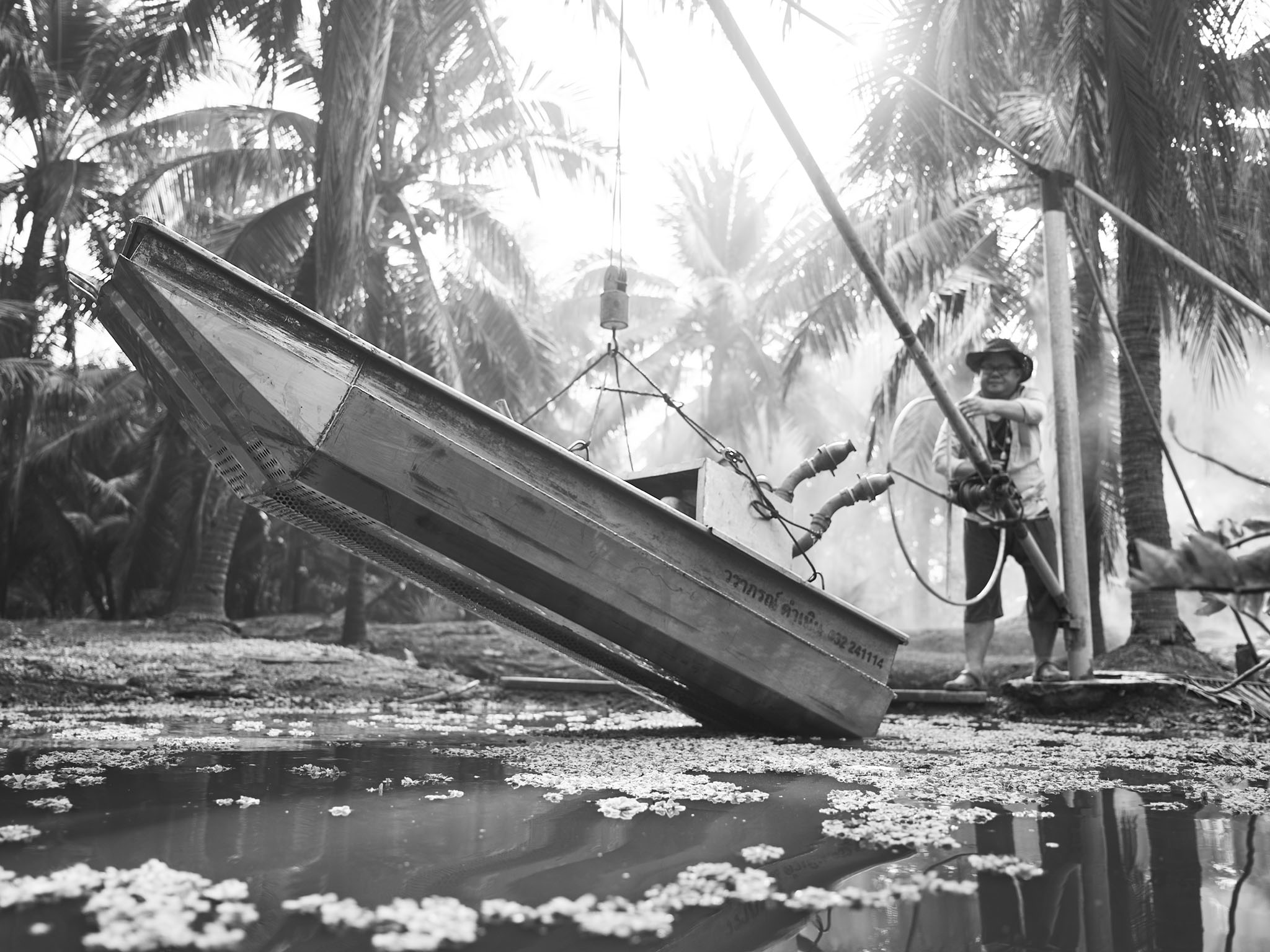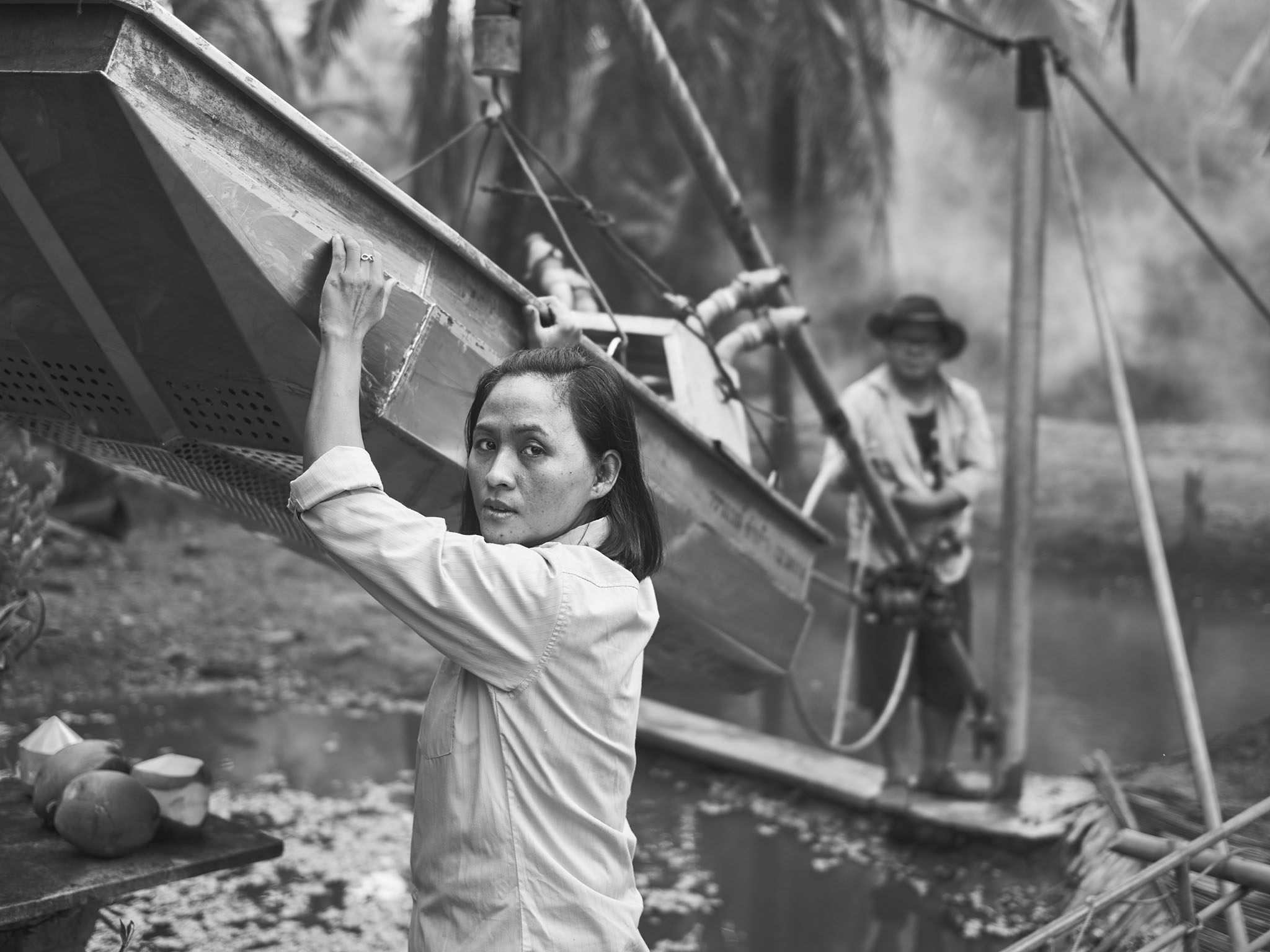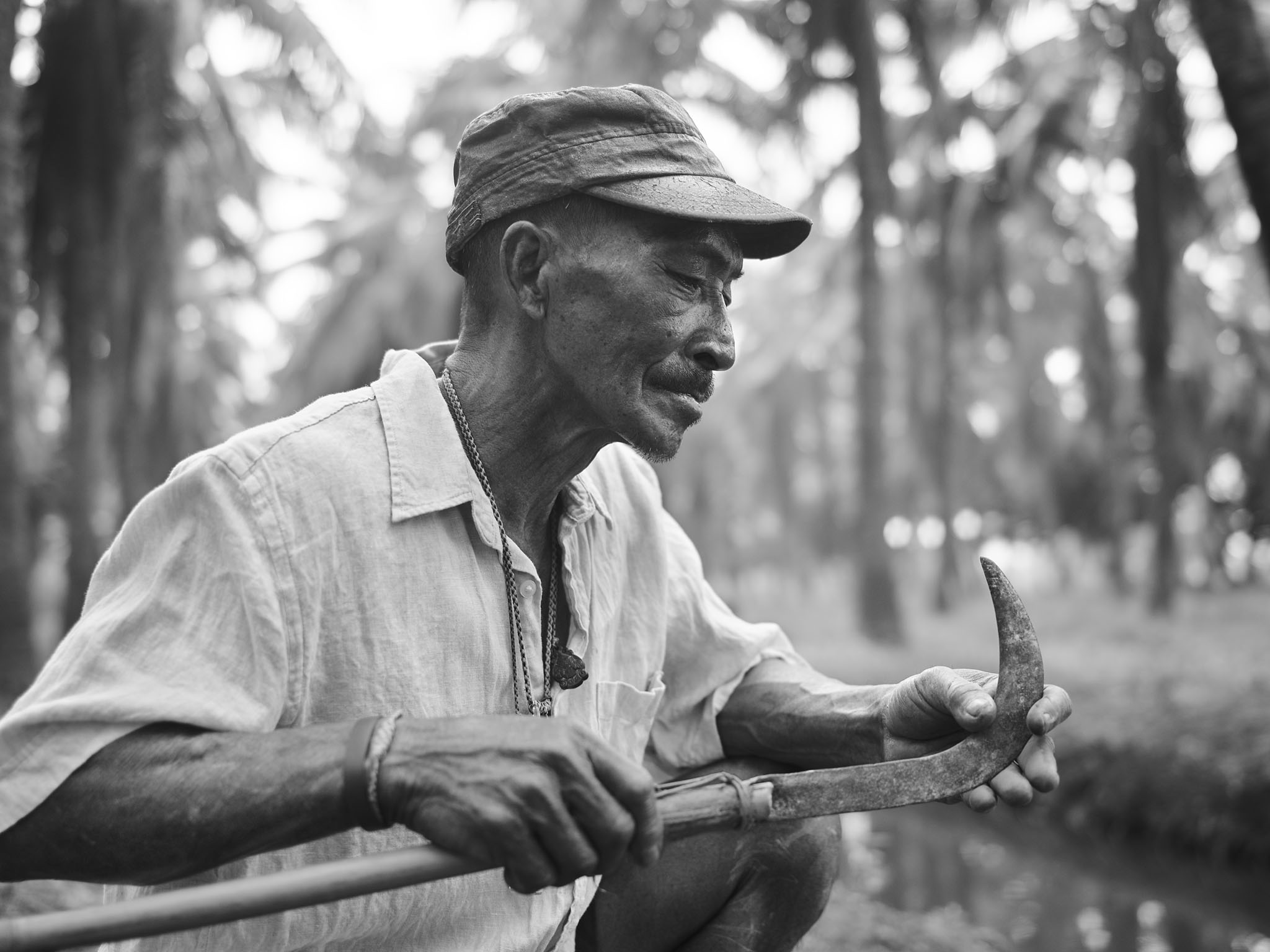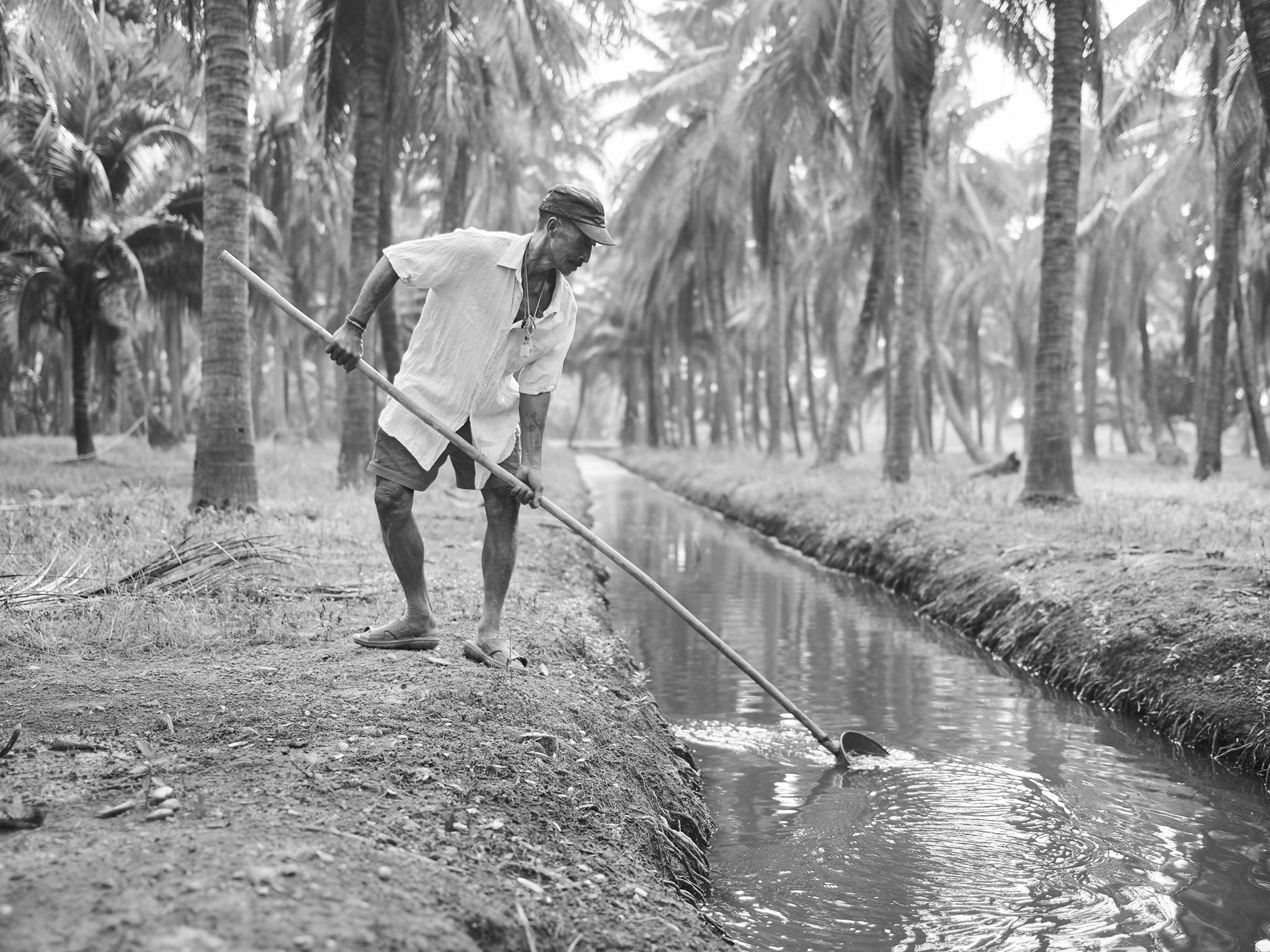 If the farmer does not own a metal boat with pressurized water pump, the coconut trees can also be watered by hand.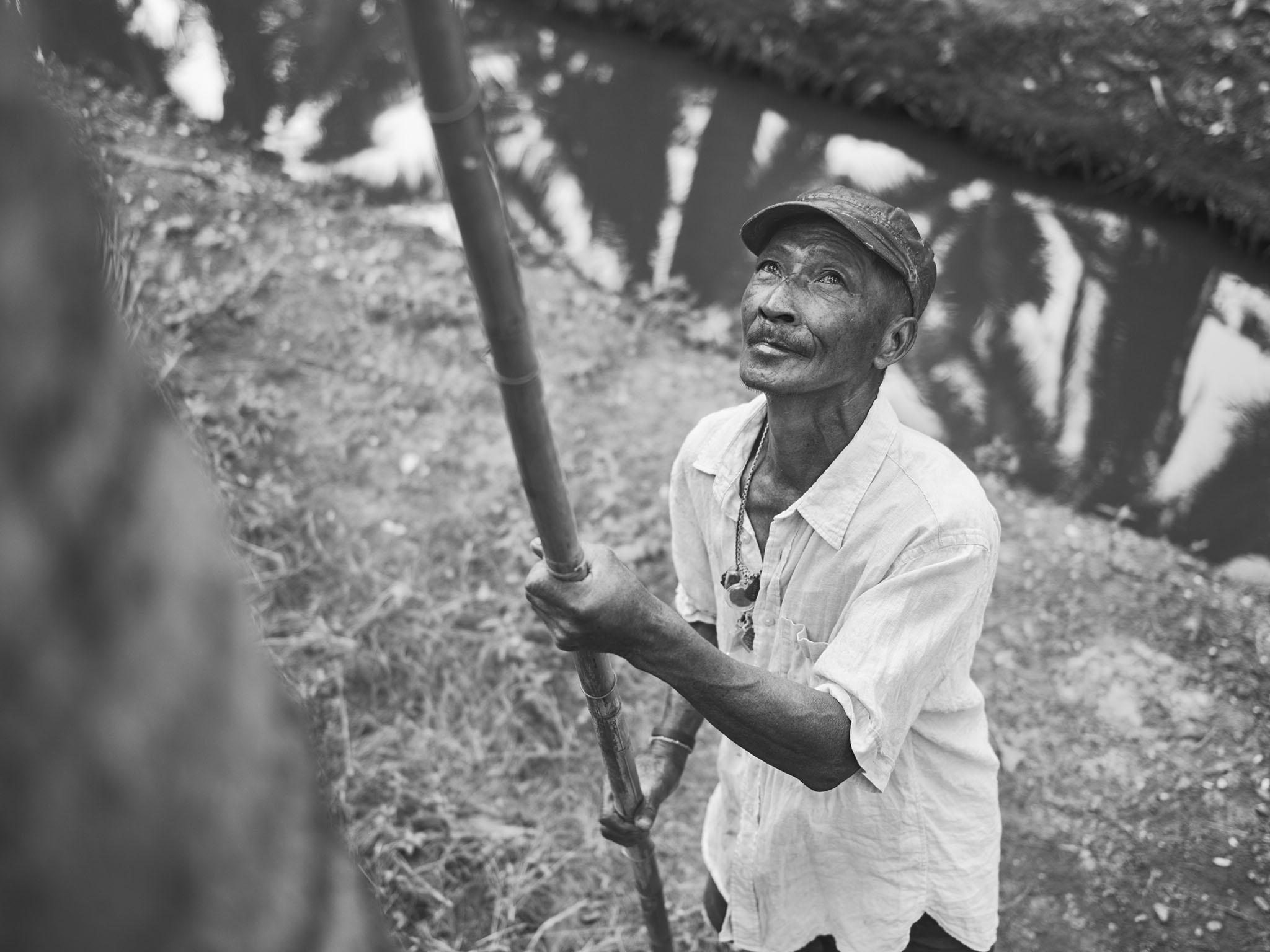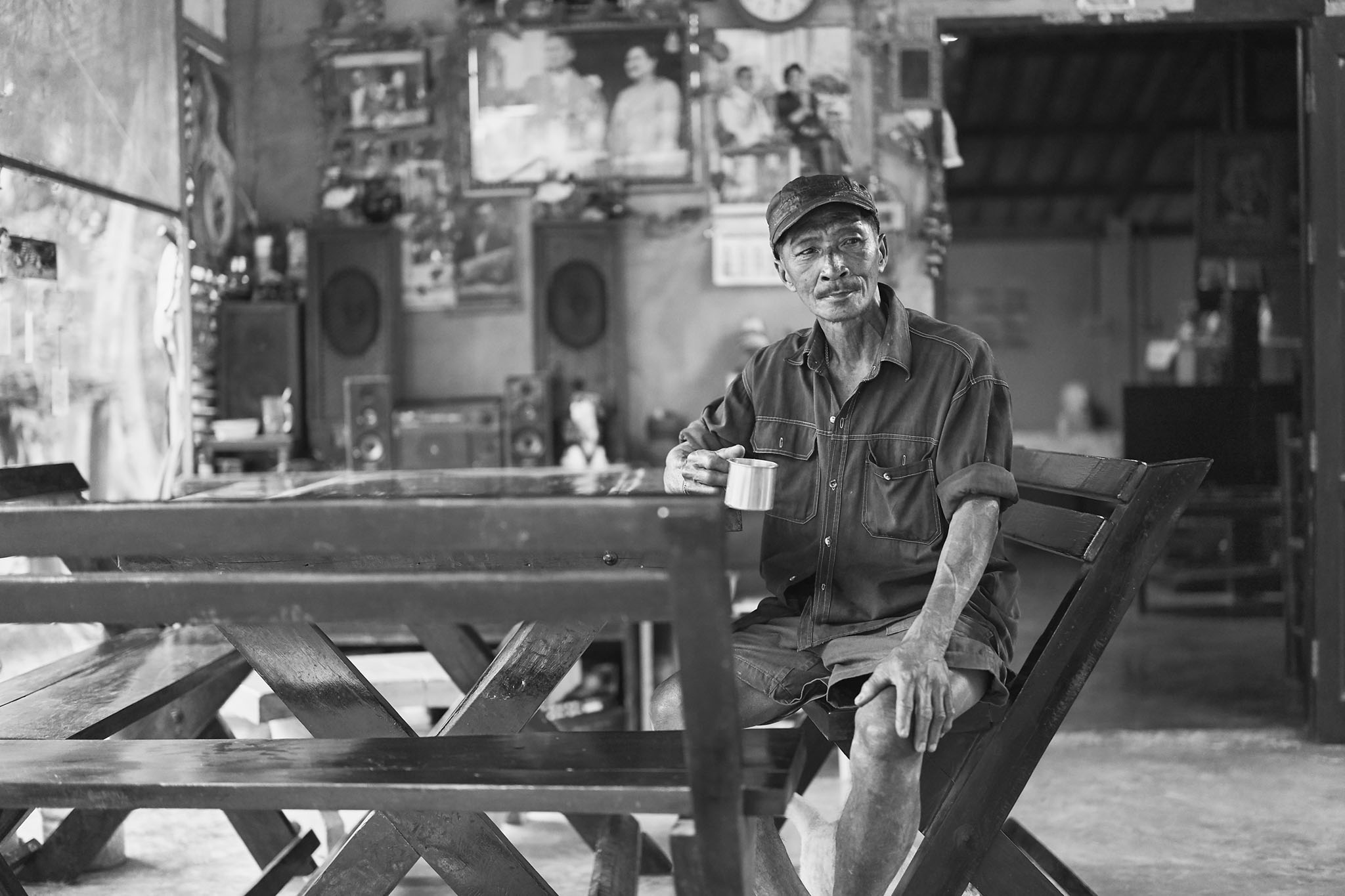 Shooting portraits tethered to Will's computer while in the field.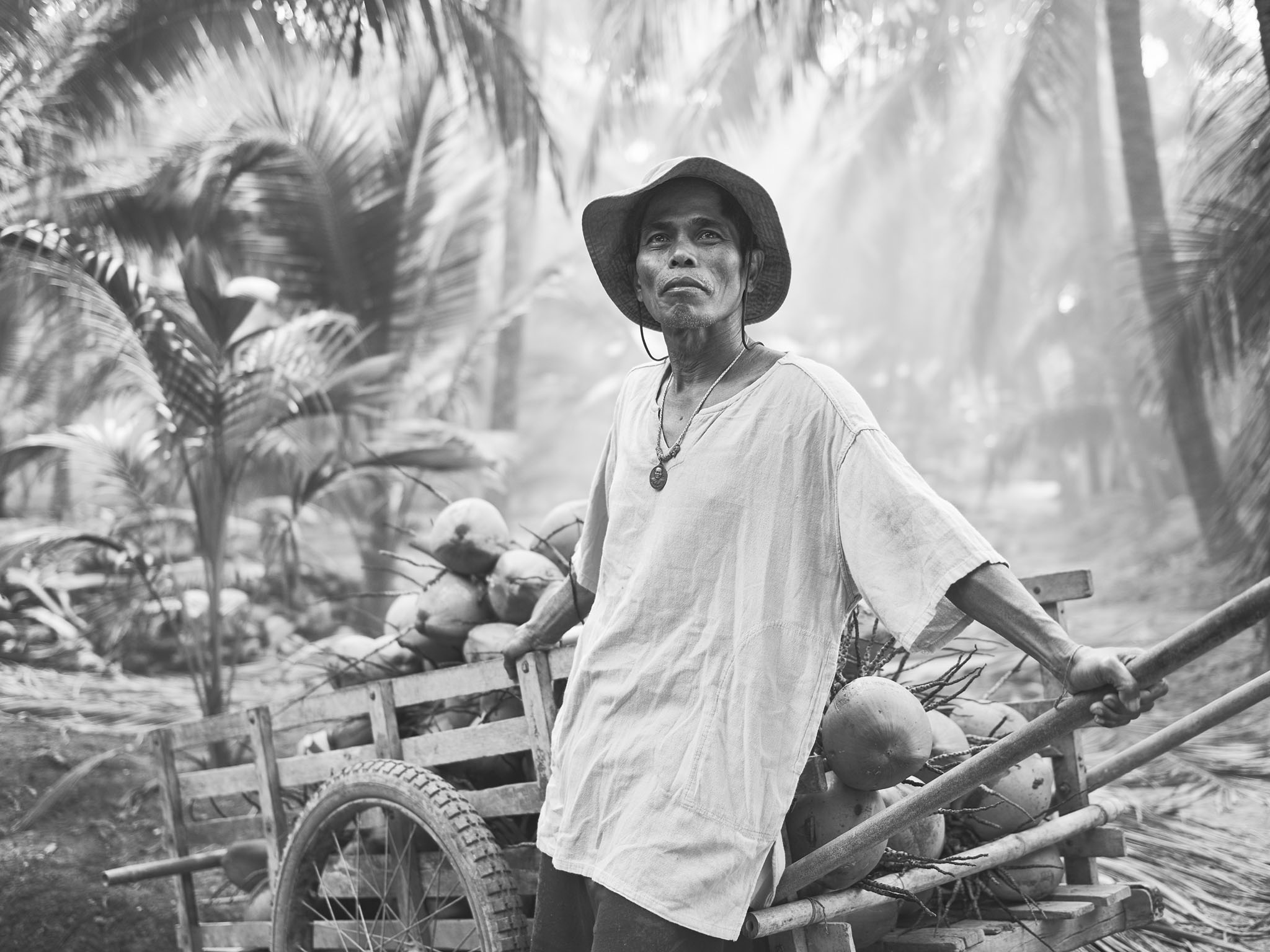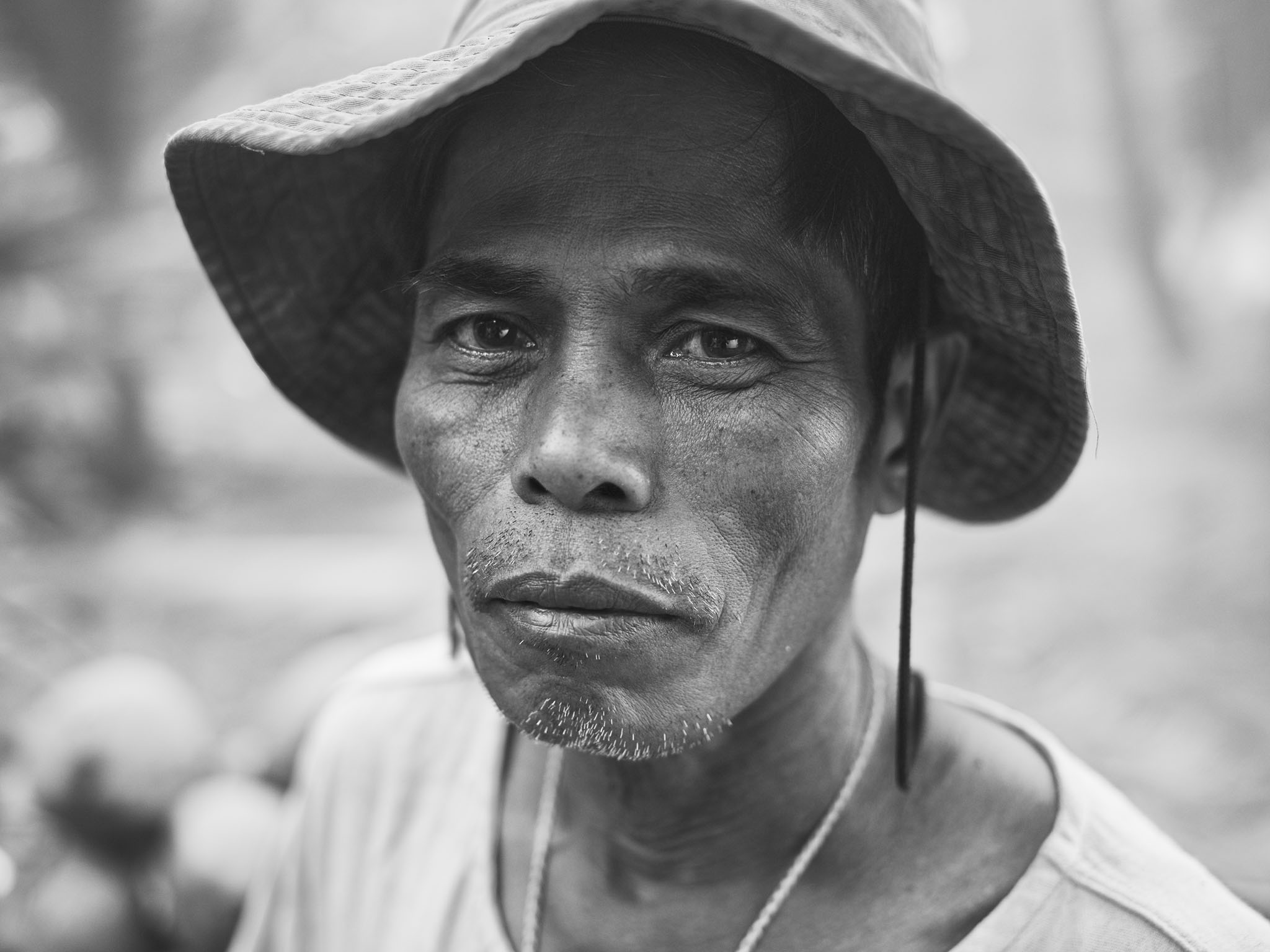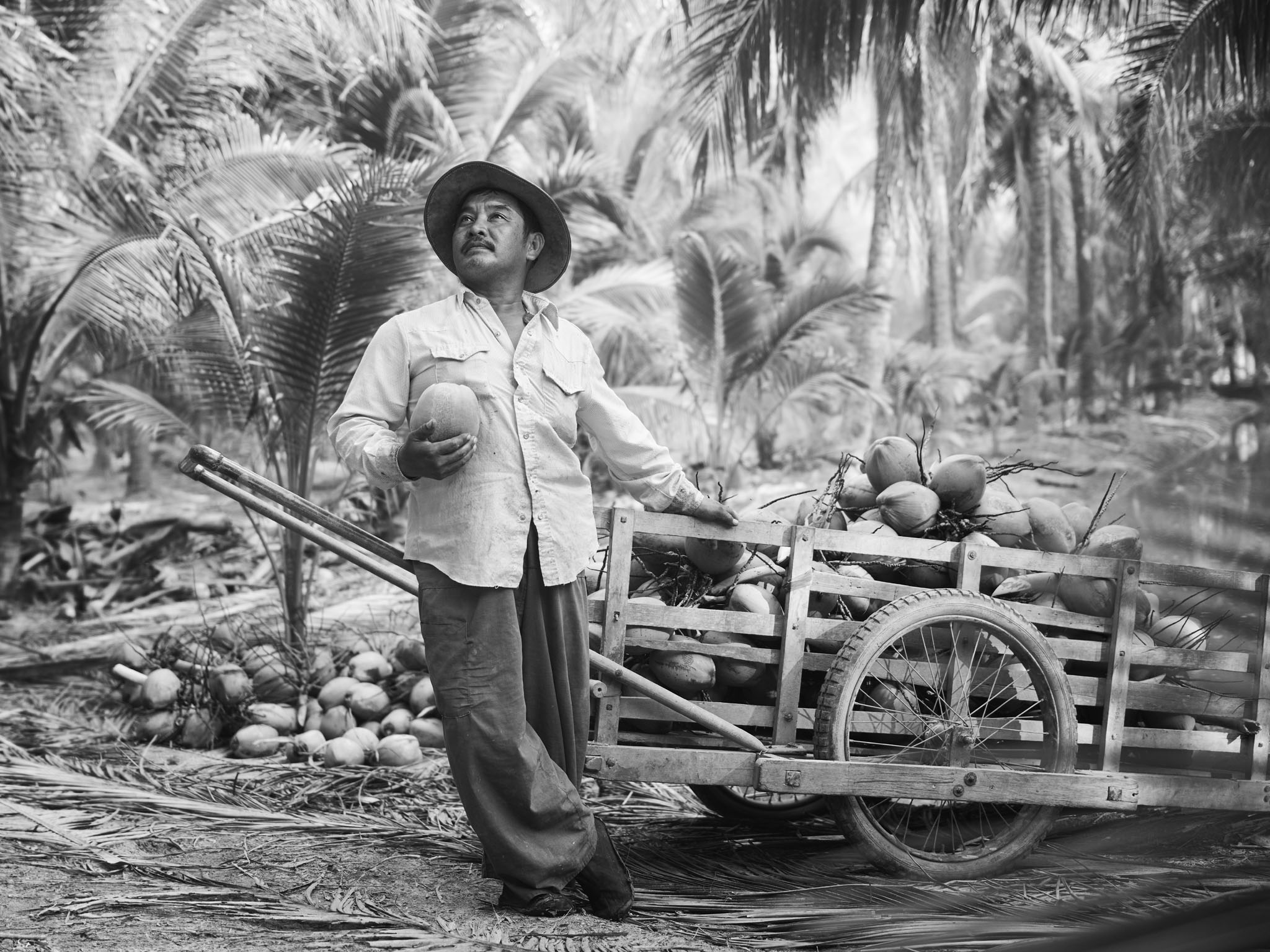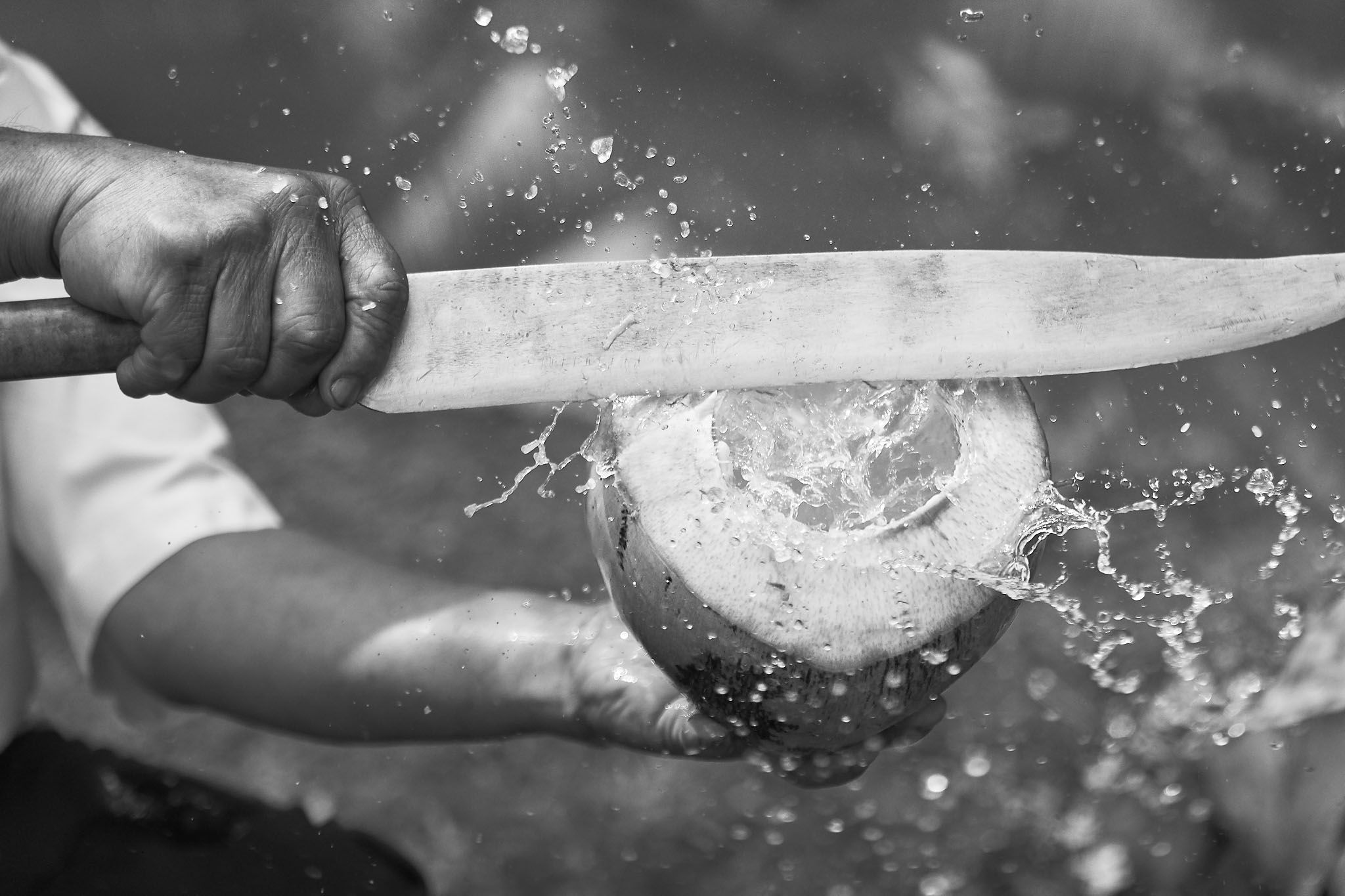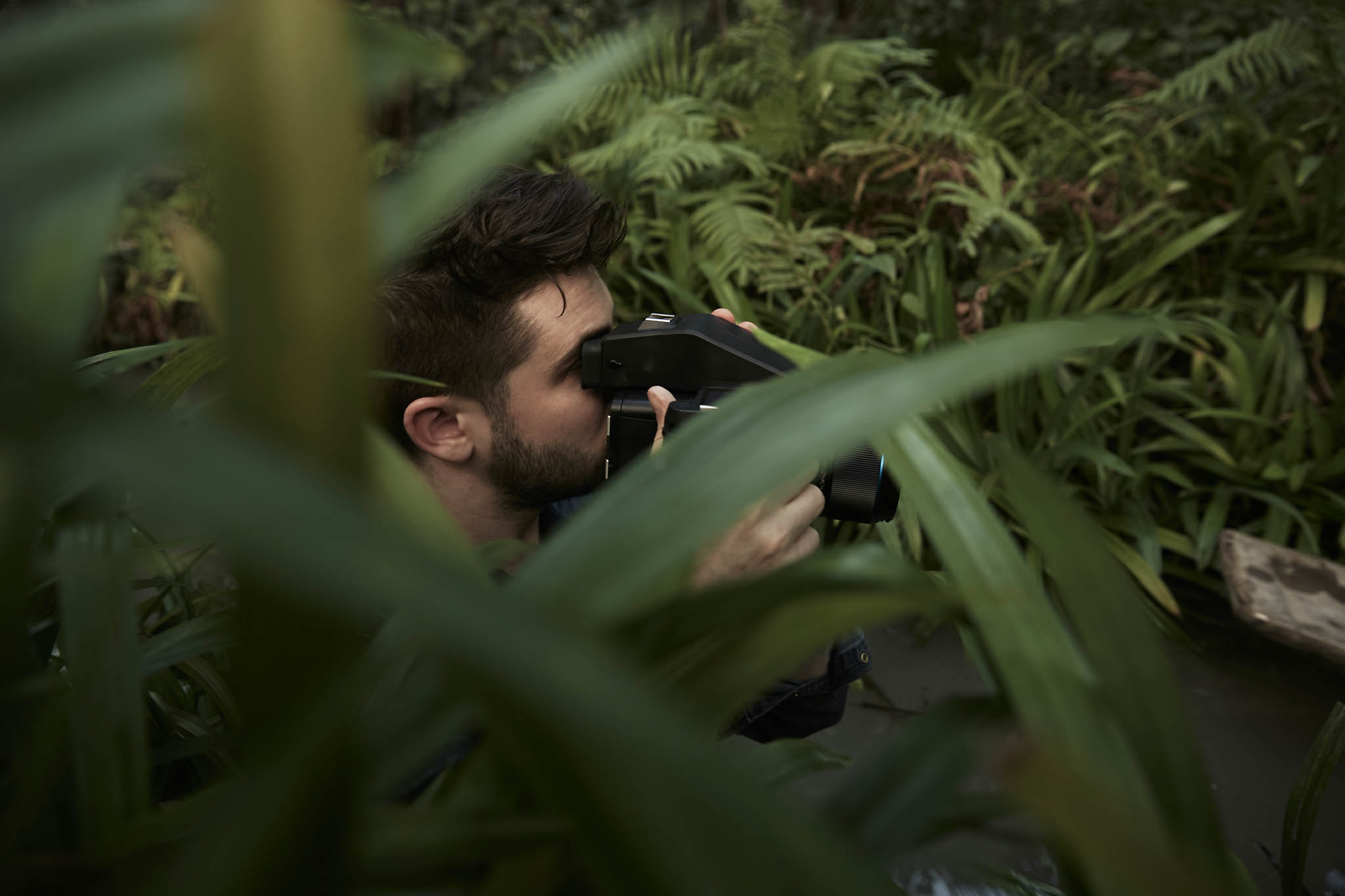 Trying my best not to slip and plunge my camera into the water...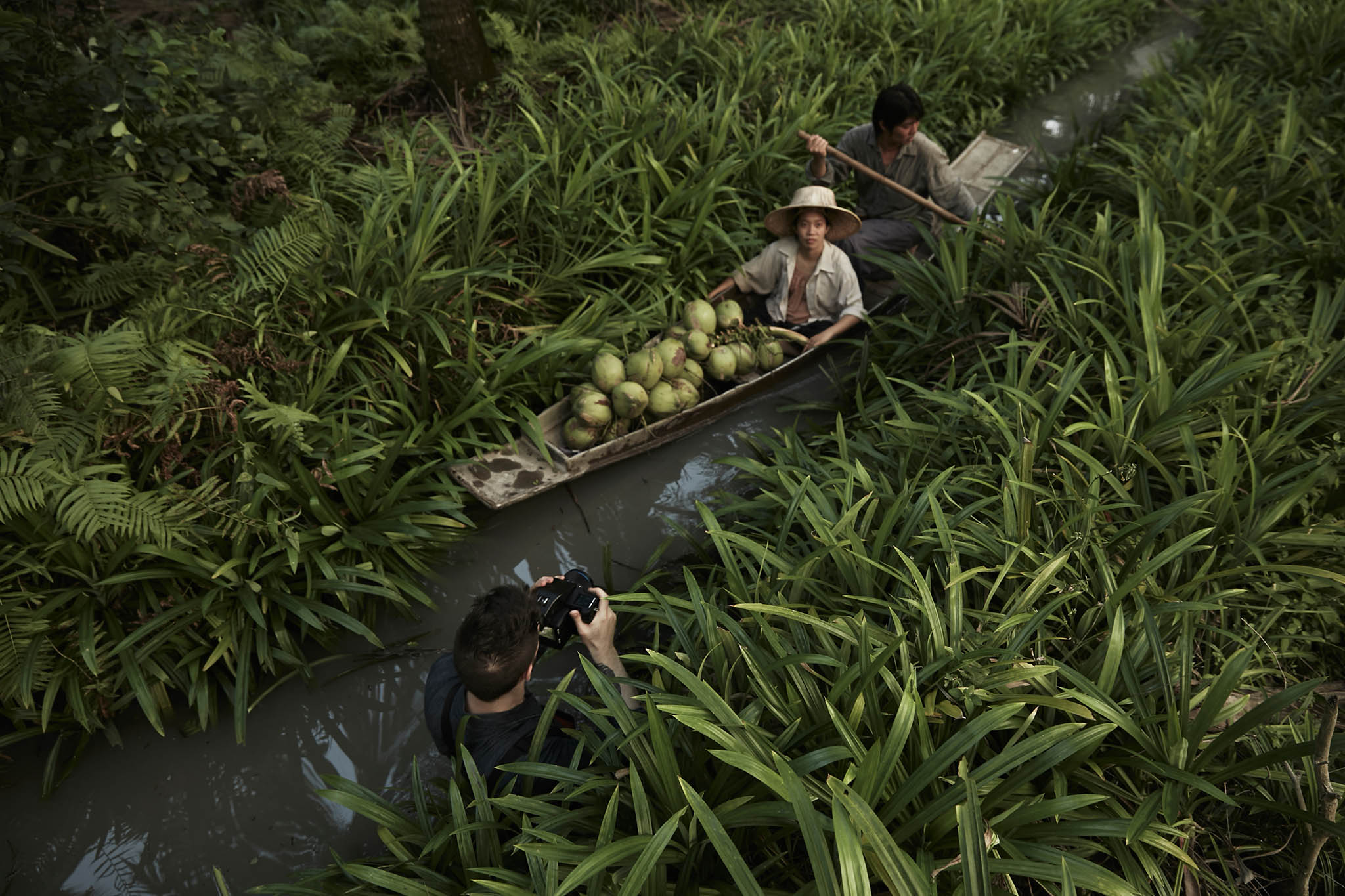 Wading through the narrow irrigation canals.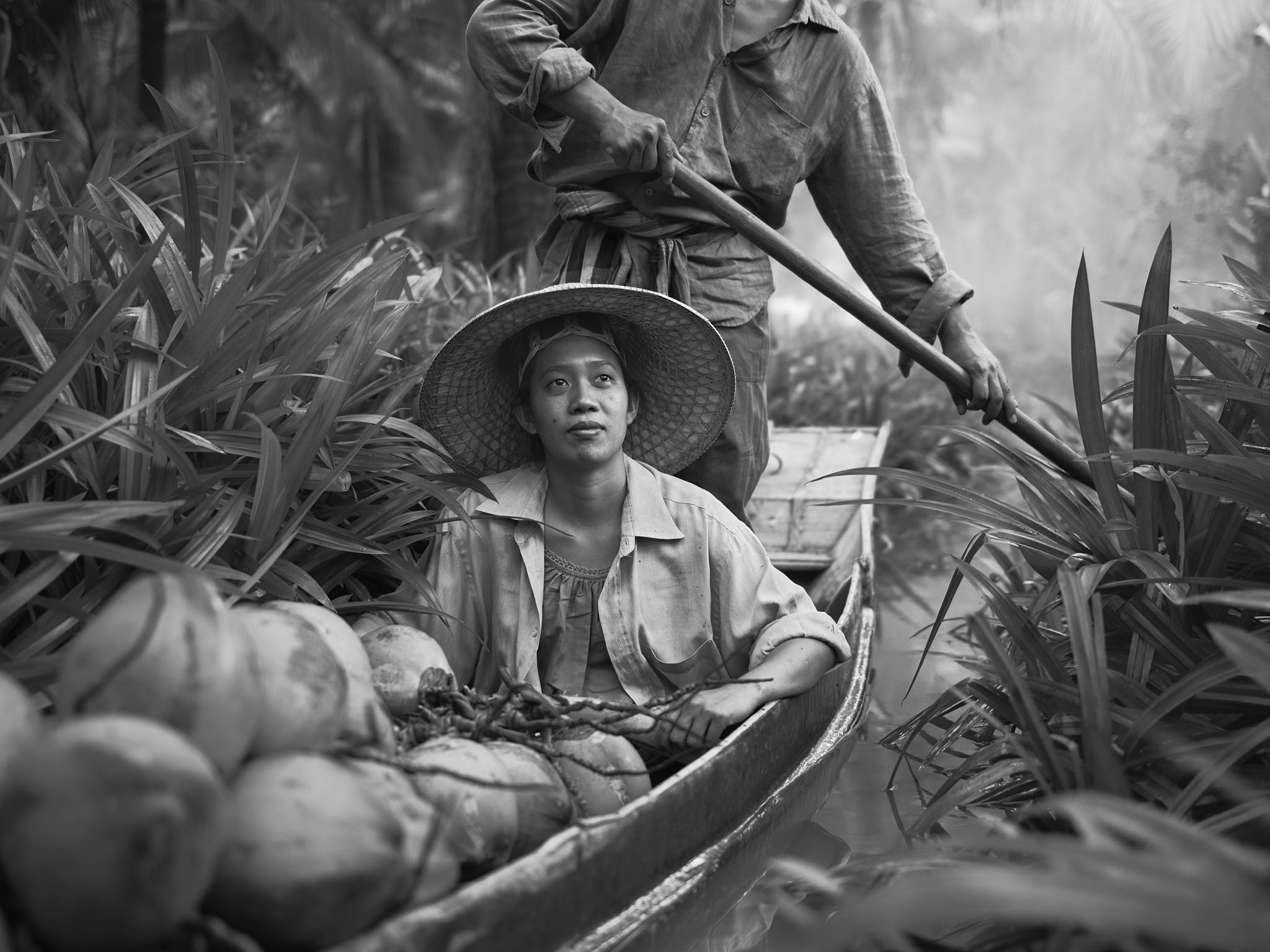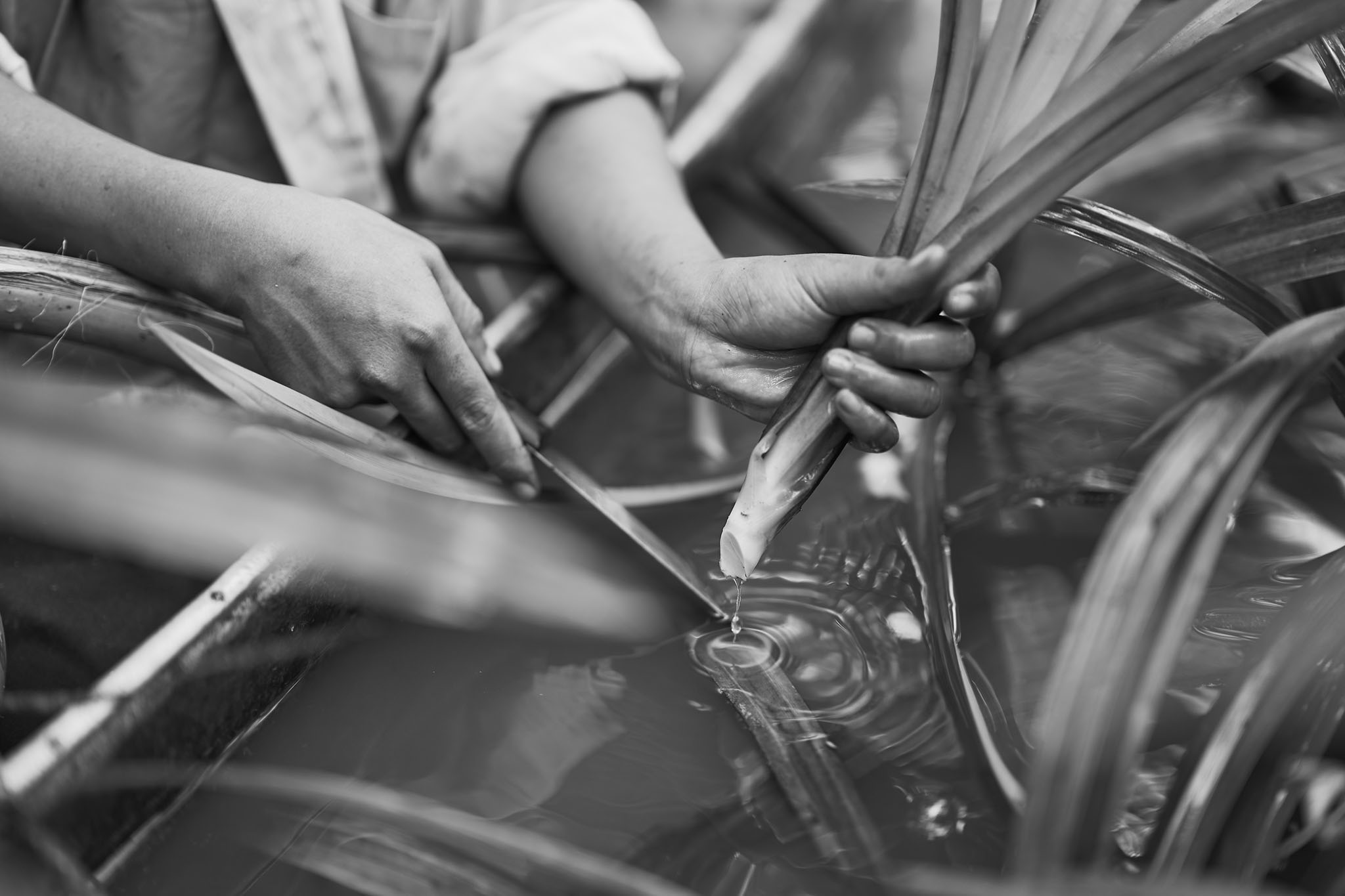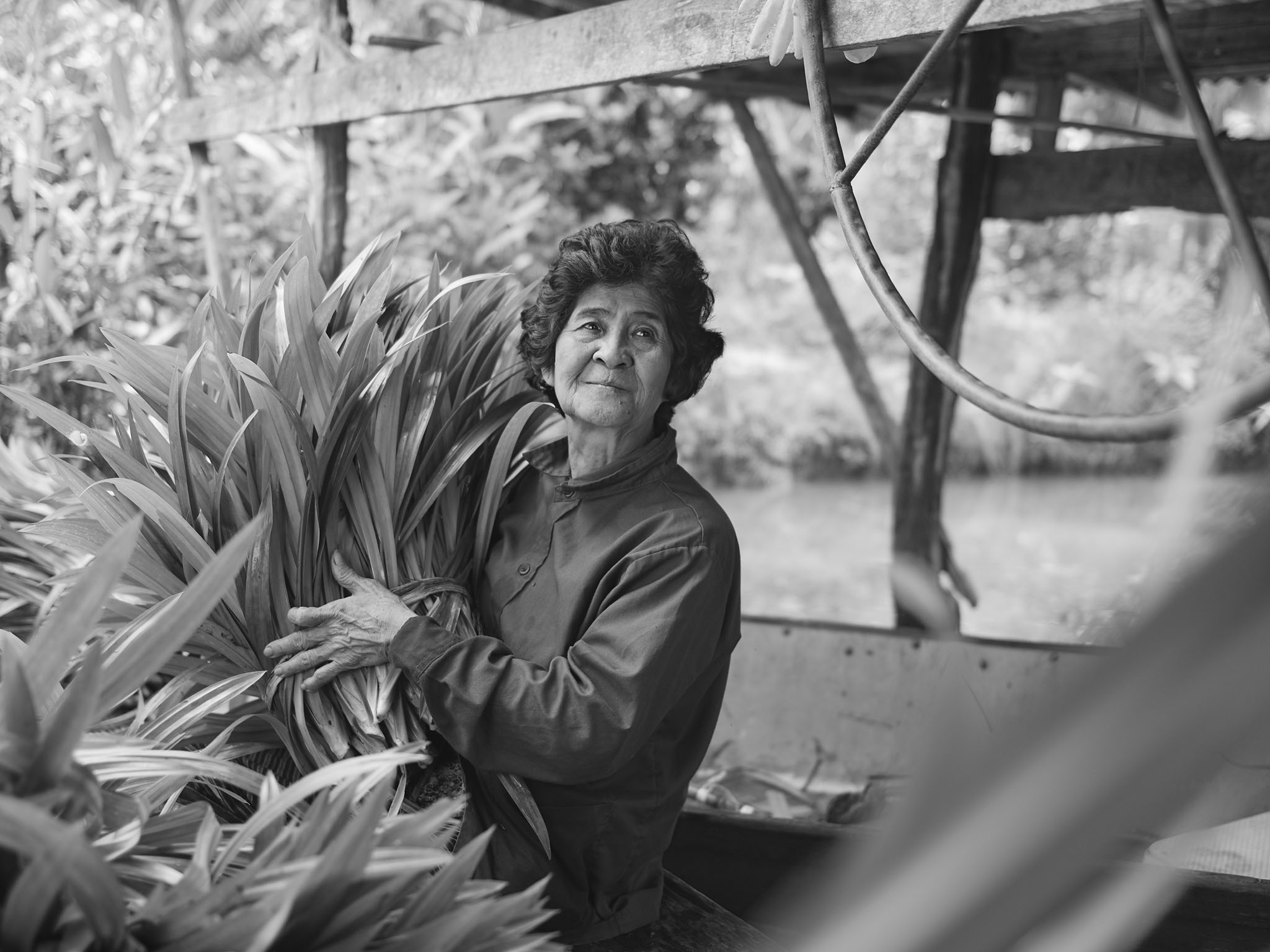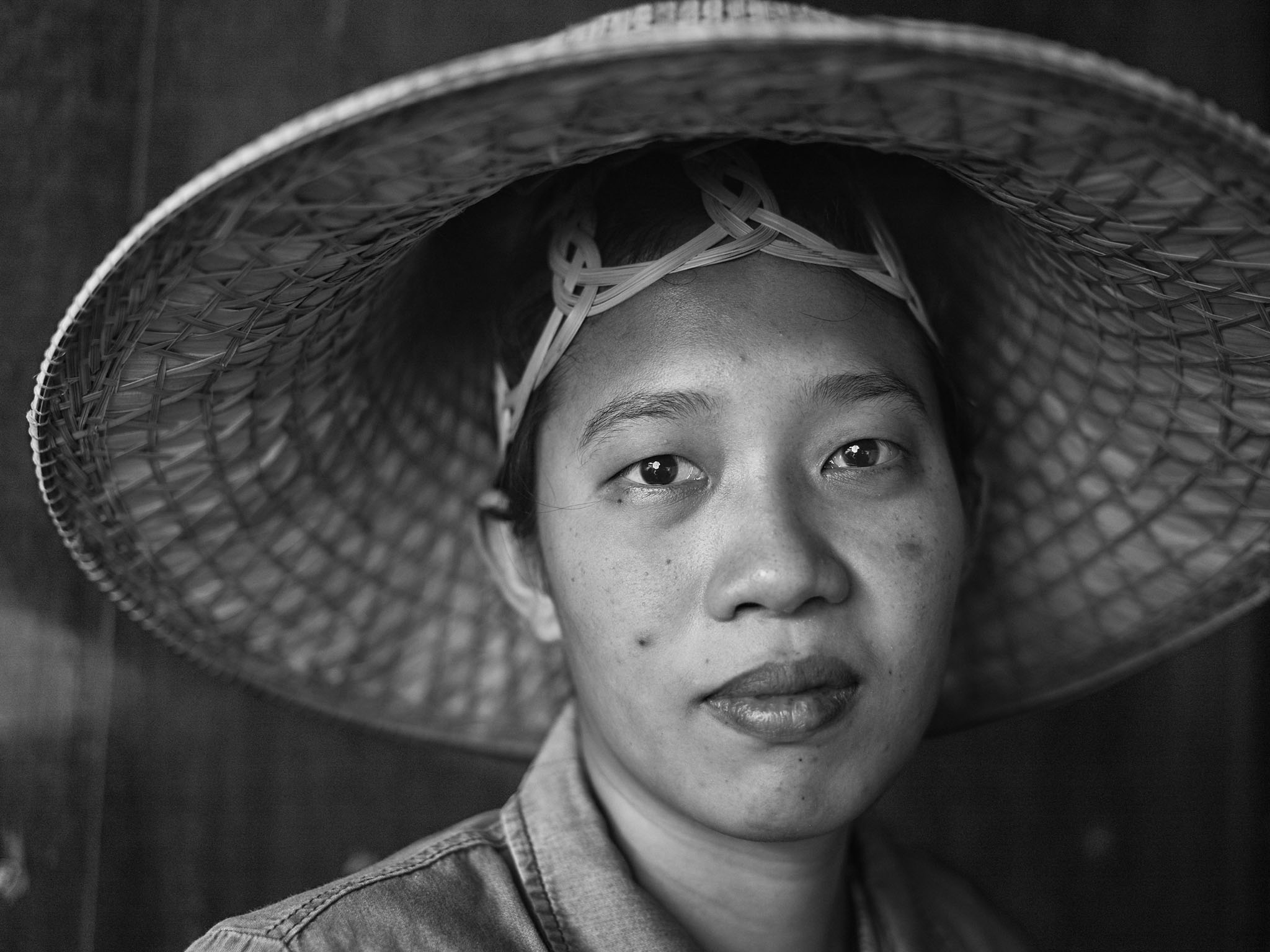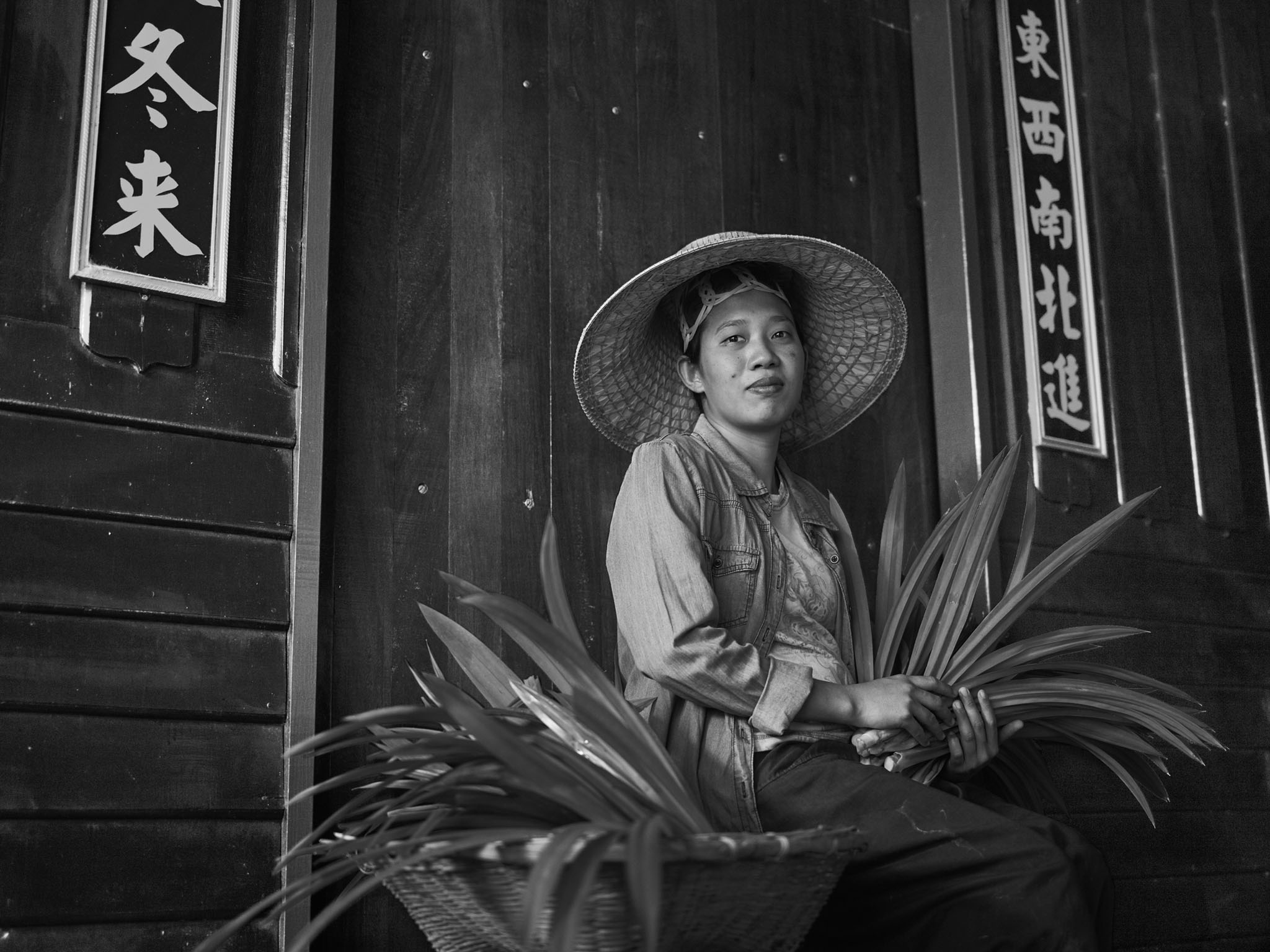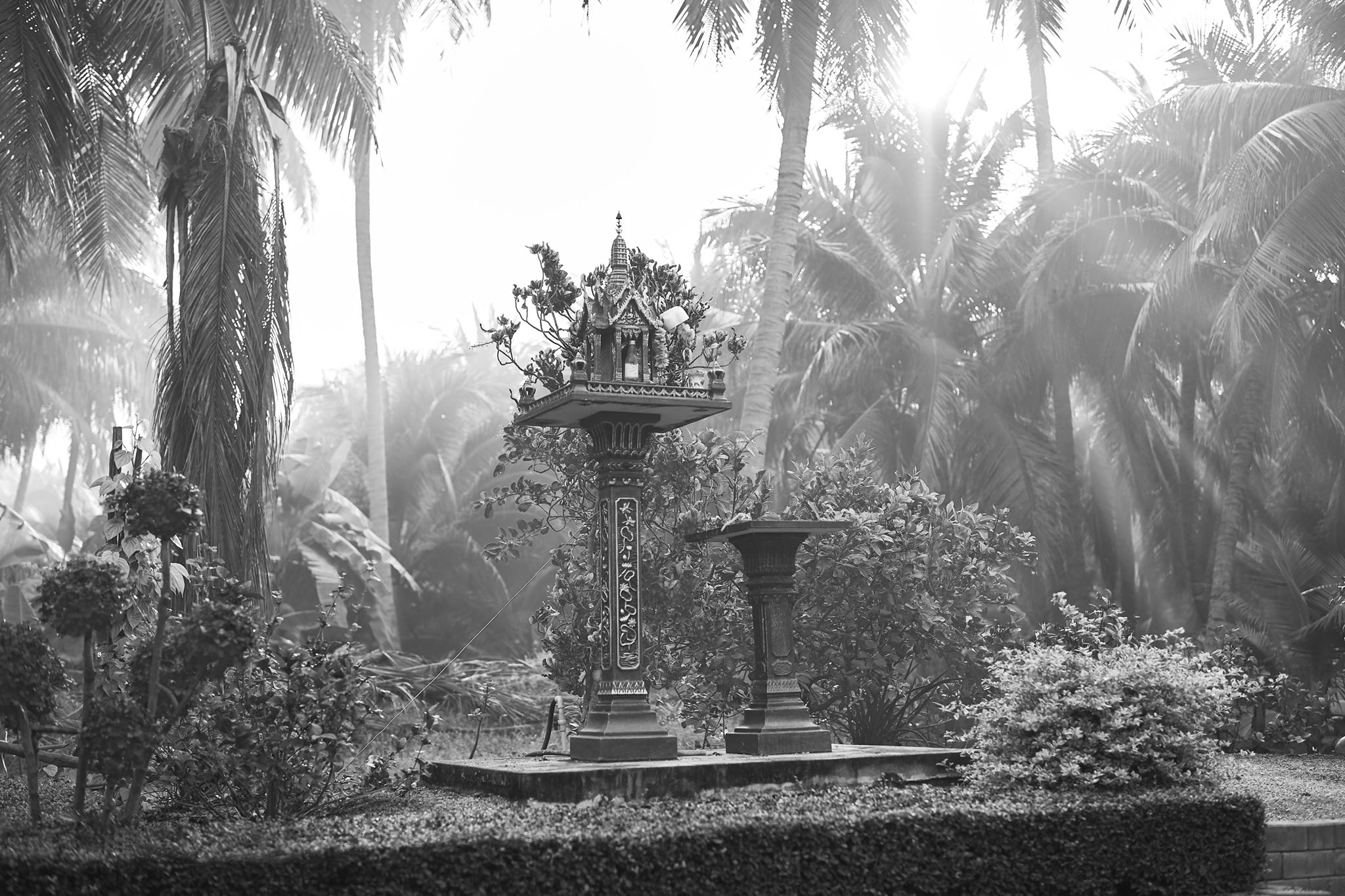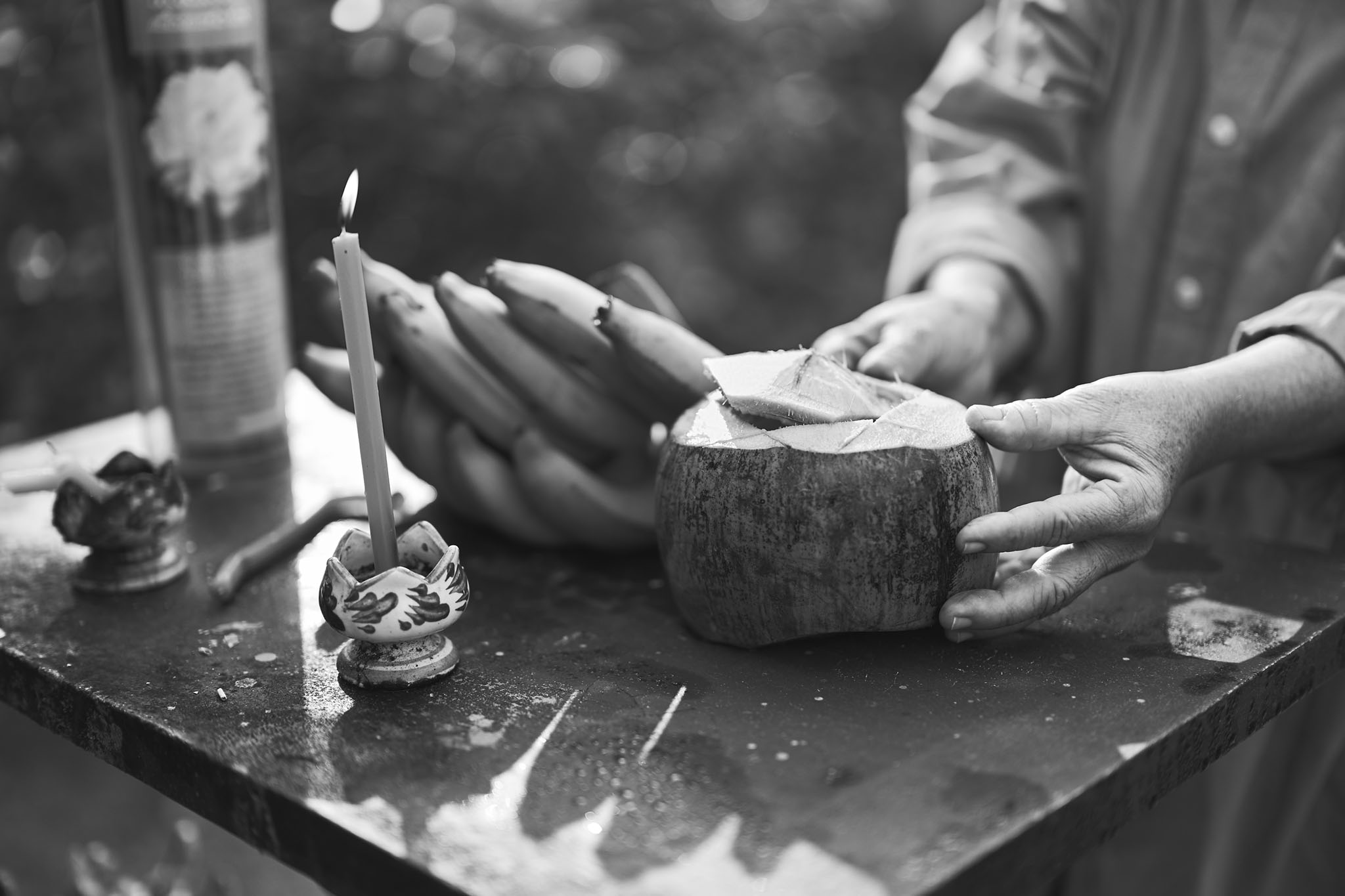 An offering is made to a buddhist shrine.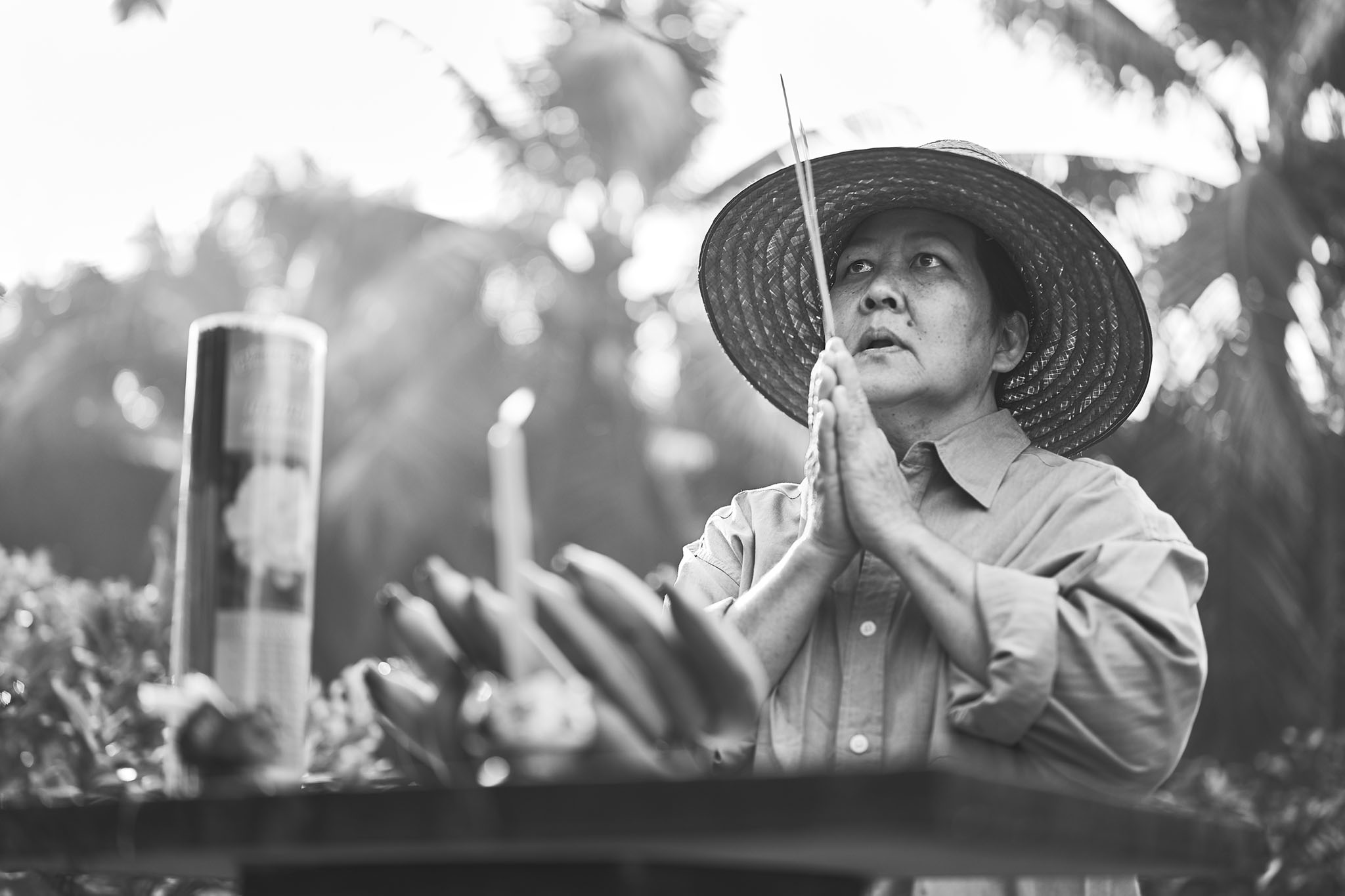 As someone who spends his time shooting 50% commissioned advertising projects and the other 50% traveling and shooting personal work, I always enjoy when a project bridges the gap and involves the merits of both disciplines of photography. My personal projects are in-depth explorations of real people and the subtle nuances of expression. I believe this shoot was a chance to do this, even though it was a commerical project.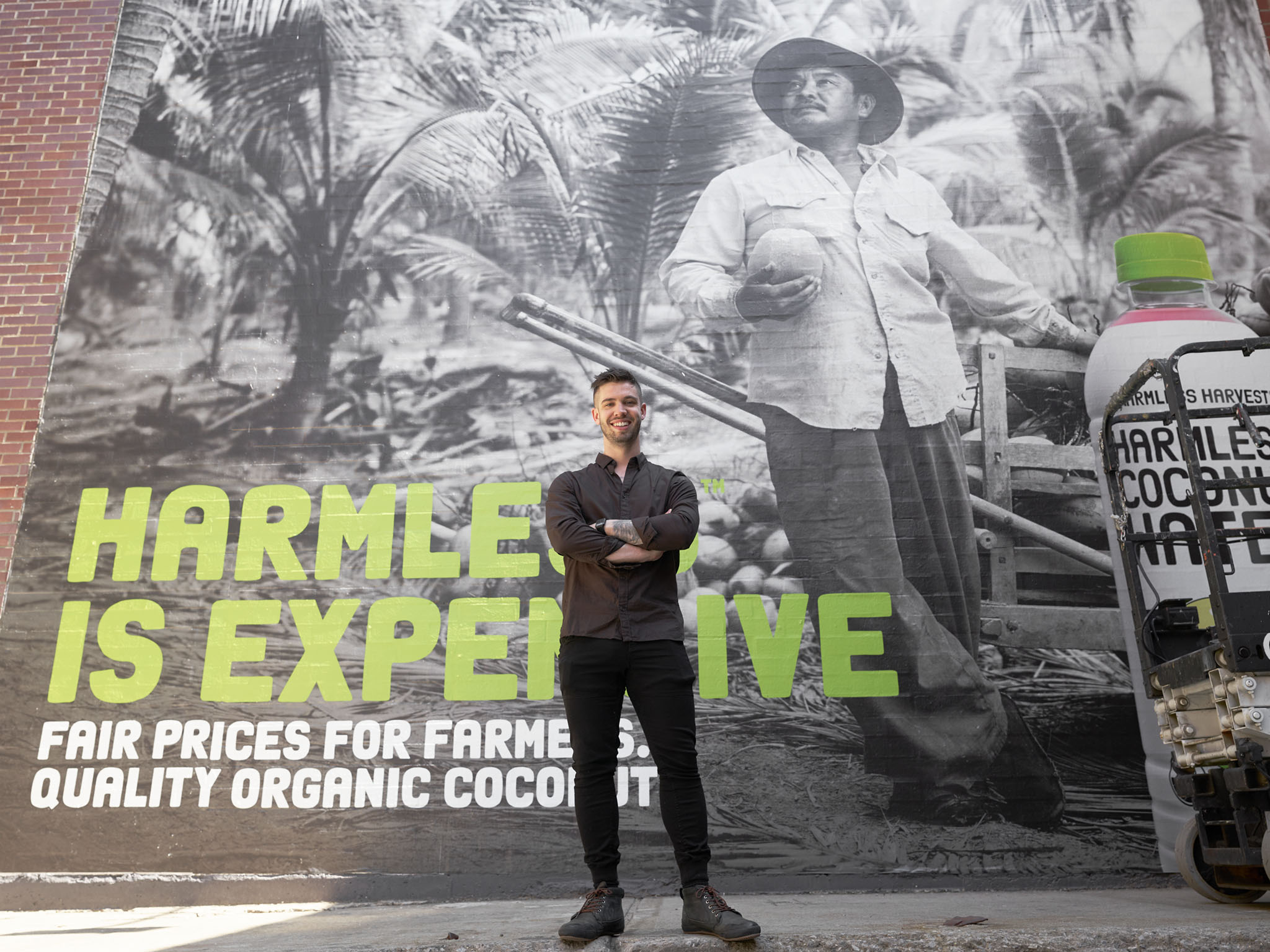 Me in front of a big-ass billboard shortly after it went up in Brooklyn, New York.
Some of the final Harmless Harvest billboards spotted in NYC.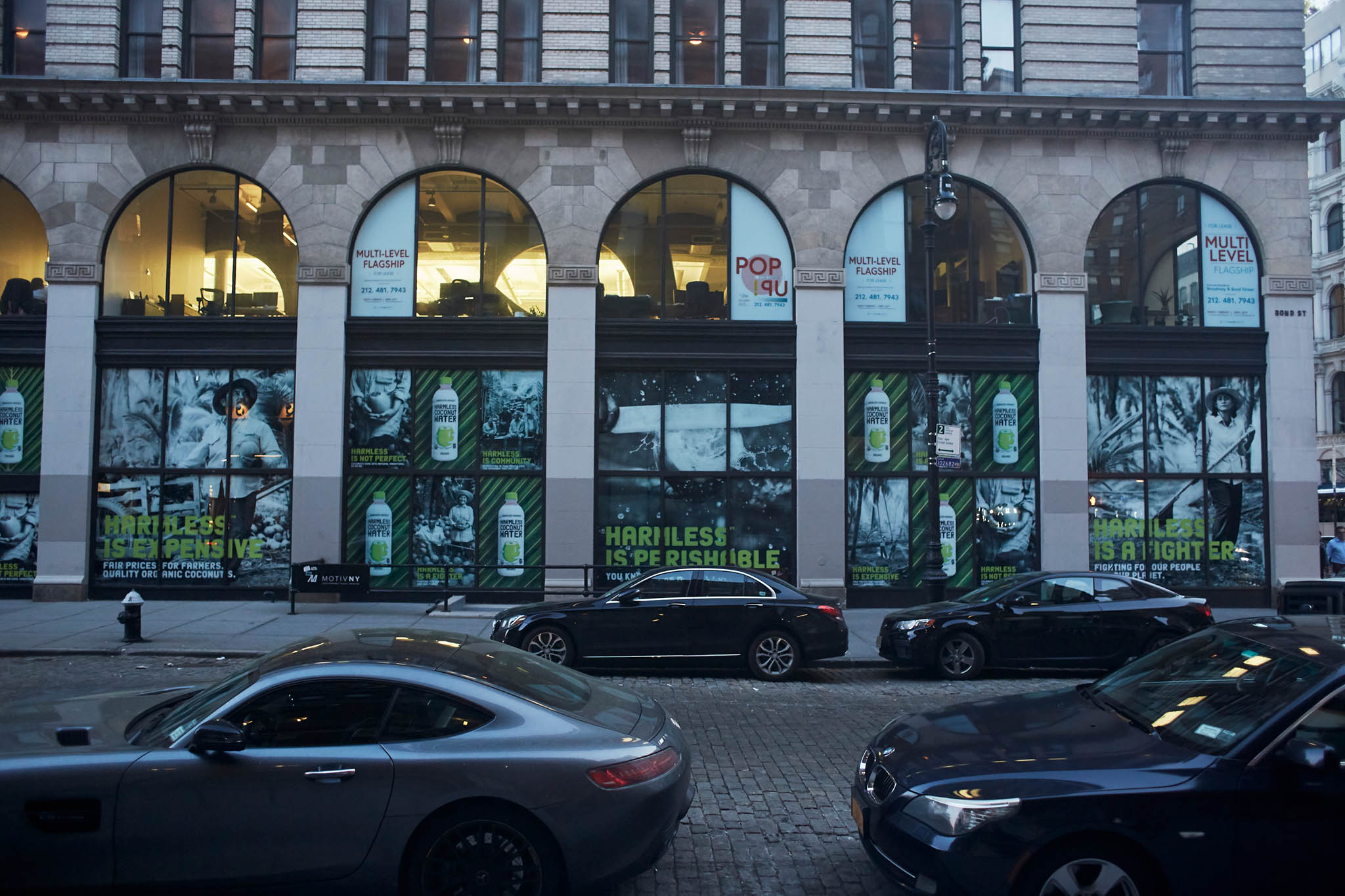 ​I'd like to thank the following people for collaborating with me:

Local Production and Technical Crew: Jirathit "Nut" Saengavut, Sarinnaree "Honey" Khamaiumcharean, May Kittiya, Will Martinez, Chareef Eamittipol, Pharisorn Sutthasarn, Olympic San, Elle Sullivan.
Creative Direction and Agency: Jacob Ireland, Erica Mellow, Patrick McCormick, Talia Weisner, Tommy Noonan.
Harmless Harvest: Mathieu Chaumont, Raveepat Vattanarom, Akeluk Nebneard, Jenna Stephenson.
Behind the scenes videos and photos: Olympic San, Will Martinez.

Special Thanks: Ehrin Feeley, Ryan Cleary.